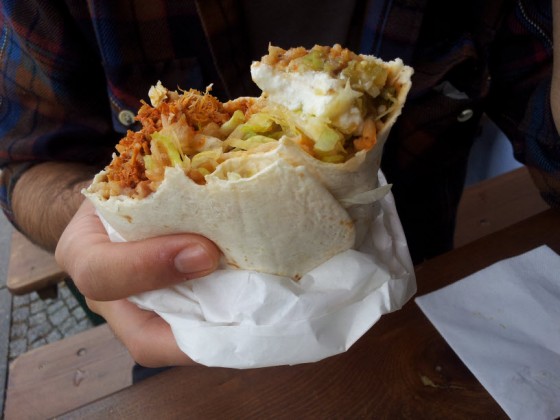 The world burrito tour continues!  When MM reader Keturah checked out the previously mentioned Dolores Burritos in Berlin last summer, he came away slightly unsatisfied by the experience.  Not looking to repeat that ordeal, he decided to try something new:
This summer, I have discovered Taqueria Ta'Cabron!  The burritos are pretty huge – an order of guacamole and a burrito is plenty for two people to split.  There are a few odd things about presentation, though.  For starters, the burrito is wrapped in paper, kinda like a doner kebab.  Sour cream is served on the side.  Everything is spiced perfectly, although it could really be saucier (the salsa, etc is also served on the side).  The beer selection is not as fancy as Mission Delores (Dos Equis & Corona), but they do have a HUGE selection of tequila.  Located in Kreuzberg (a neighborhood not unlike the mission), it seems super popular with Americans, and the staff speaks Spanish as well as German and English. The menu also offers tacos, enchiladas, tamales and tostada de ceviche, though I haven't gotten past the burritos and guacamole – maybe next trip!
Apparently people have been saying good things about this place, so I suppose it's worth a shot if you find yourself in the area but tiring of schnitzel and soljanka.  At the very least, it beats the burritos in Paris!
At the very least, it's way better than a Paris burrito!
Previously: