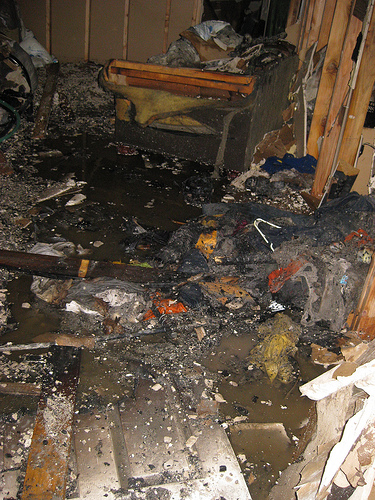 We received the following email in our inbox, which describes a real bummer of a situation a group of now-former housemates is currently experiencing due to the alleged continual negligence on the part of the landlord to address pressing maintenance issues that ultimately resulted in a dangerous fire.  The best  advice I can offer in this case is probably to contact the SF Tenants Union, but perhaps some of you might have better ideas.  Full story continued after the jump:
On Monday July 23rd at 6:30am there was a two alarm fire at 3316 26th Street. The fire was caused by faulty electrical wiring and was sparked by a broken bathroom ceiling fan that had gone long unfixed by the building's owner. While the fire itself caused only a small panic for the rest of the tenants of the building, the damage to the unit it which the fire started has left it's occupants displaced.

I, as you may have guessed, am one of the said dwellers. Though we contacted our landlord several times regarding various issues with the property, e.g. outlets that had sparked, broken bathroom ceiling fan, persistent shower clogging, non-operational smoke alarms, she never seemed care to address them. In our own fault, we were unsure of how to proceed outside of nagging and felt that paying $2,500/month for a four bedroom apartment was probably going to warrant some code breaking. However, this proved consequential…
on the evening of July 22nd a guest in our home had flipped the switch to the burned-out ceiling fan in our bathroom, sparking a small fire within the fan box. The fire was put out via an extinguisher and the fire department called. The firefighters disconnected the fan and used a heat detector to check for any flame in the internal structure. After they gave us the clear we informed our landlord of what had happened and she agreed to stop by sometime during the week. Early the next morning my live-in boyfriend got up to take a whizz. When he flipped the light switch nothing happened so he went about his business assuming the light had also been affected by the fire and proceeded to go back to bed. He said that after a while he heard what sounded like a power outage or surge, something like "mwwwomp." He got up, went into the bathroom, tried to flip the switch again and nothing happened. He started to peek around the fan box to see if he could see anything as he realized he smelled smoke and sure enough between where the fan box and the drywall of the ceiling met he could see orange, glowing flame. Long story short, seven fire trucks came, our entire bathroom and most of our hallway were ripped out. As a result, everything in the living room and obviously the bathroom were destroyed. The house was flooded and everything was charred and/or covered in burnt insulation and dry wall.

The landlord showed up around 9am, despite us having called her at the time of the fire. She put on a convincing show for the firemen crying and claiming that she had called an electrician but that he had never showed up. She also pleaded with us saying that she wanted to help us and that she would find us housing.

It has been two weeks and not only have we not received our deposit or our pro-rated rent for the month of July, but our landlord refuses to return our calls and only refers us to her restoration company (Cenco) that seems to have zero information for us outside of the six-month time frame that it will take for them to rebuild the apartment. We only had two days to get everything out, all of our belongings are in storage, and we are jumping from couch to couch while we frantically search for housing. It seems that because we are not already residents of government sponsored housing we do not qualify for any aid from the Red Cross. Additionally, we are all art students that hold full-time jobs but don't seem to meet the rental requirements for the city's rising rental prices. Because of our landlord's neglect and the costs that we are currently having to front we all may have to say goodbye to San Francisco, leave school and seek shelter in a more accommodating city.
[Photo]