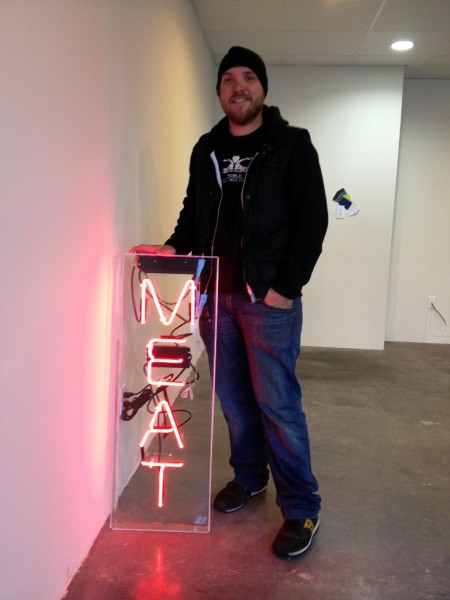 Ryan Farr has been the king of the meat scene in SF for a few years now, and he's a very bloggable dude (see the "previously" section at the bottom of this post), so we're very happy for him and 4505 Meats that they're finally opening their very own shop. Here we go:
It's with great excitement that I share the news that 4505 Meats is opening up a small butcher shop in a couple weeks at 1909 Mission St. (at 15th St.), four blocks from Rainbow Grocery, just around the corner from the 16th street BART station and a block away from Four Barrel.
Opening a shop is something we've been talking about for four years, and now– after two babies, over 100 classes, and two books (4505 Meats' Sausage Book will be released by Chronicle Books in the spring of 2014), we are finally doing it.
The shop's opening hours will be 10 a.m. to 6 p.m. Wednesday through Sunday to start. My wife Cesalee and I have lived a block away from this space for over 10 years; we believe in this neighborhood and think our butcher shop will help make it an ever more dynamic place to live and work. We're also working on a larger concept in a different location of the Mission, which we hope to open next year.
I will be there daily, cutting and grinding meat to order, and will always be happy to answer your cooking and butchering questions. The shop will also be serving ready-to-eat hot 4505 sausages and dogs with house-made sauerkraut and mustard, and smoked meat by the pound. We'll also have the infamous 'Zilla Dog: our bacon- studded hot dog smothered in chicharrones and Namu kimchee, in addition to the sexy Kink Dog and other tasty dogs in the normal 4505 fashion.
A variety of cuts of beef, pork, lamb, chicken, sausages, bones, fat, stock and other prepared items like pork green chili, deli meats and terrines en croute will be available for you to take home and enjoy. In addition, we'll have your holiday needs covered with smoked hams, stuffed pork roasts, truffled geese, and an abundance of festive holiday treats. And of course, there will be chicharrones!
We will continue to be at the Ferry Plaza Farmers' Markets on Tuesday, Thursday and Saturdays, the Mission Community Market on Thursday nights, and the Montclair Farmer's Market and Divisadero Farmers Market on Sundays as well.
With gratitude,
Ryan and Cesalee Farr, and the 4505 Meats Crew
Congrats, y'all!
[Photo via Inside Scoop]