Andy writes in to let us know that tomorrow (Wednesday, 8/14) is a big hearing to "call a Spade a Spade: Jack Spade/Kate Spade is one big company".  He reiterates that he's in for a public debate that we (Mission Mission) will run if there are any commenters who oppose the actions to block Jack Spade and are willing to publicly stand up for what they believe.
You can follow the story of the opposition here.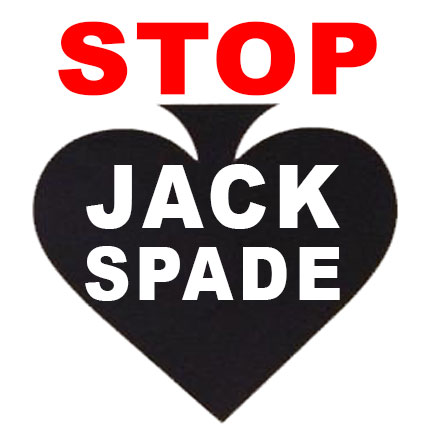 The press release after the jump.
COMMUNITY COALITION TAKES FIGHT AGAINST
NEW JACK SPADE STORE TO SF CITY HALL ON WEDNESDAY
Merchants, organizations and neighbors present new evidence suggesting Jack Spade
misrepresented the nature and structure of its company when applying for City permit
Supervisors Campos and Avalos submit letters supporting initial appeal
SAN FRANCISCO — The fight against designer menswear line Jack Spade opening a new store in the Mission District heads to City Hall this Wednesday, August 14th, as a coalition of merchants, community organizations, and neighbors takes their case with new evidence before the Board of Appeals (City Hall, Room 416, 5:00pm).
The Valencia Corridor Merchant's Association (VCMA), as well as concerned residents and a number of Mission District-based community organizations, including Causa Justa :: Just Cause, PODER, and La Raza Community Resource Center argue that Jack Spade falsely presented itself as a small, independent business in order to avoid the City's "Formula Retail" regulations, which require businesses with over 11 locations in the U.S. to submit to a public approval process.
The Coalition maintains that Jack Spade is the same company as Kate Spade LLC, both of which share headquarters in New York; distribution software and distribution center in Ohio; IT, HR and legal departments; staff and payroll; and parent company, 5th & Pacific (formerly "Liz Claiborne"). According to 5th & Pacific's public filings, Jack Spade is considered a sub-brand of Kate Spade, which itself has 94 locations in the U.S.
The Coalition argues that, had Jack Spade been forthcoming about its corporate structure, it would have rightfully triggered a public hearing under the formula retail regulations.
"We need to call a Spade a Spade," said Eileen Hassi of the VCMA and owner of Ritual Roasters on Valencia Street. "Kate Spade and Jack Spade are not, by any reasonable definition, separate companies and therefore Jack Spade needs to be treated as formula retail. Under the formula retail ordinance, the community gets to have a say in the development of its neighborhoods. We're asking the Board of Appeals to let our case go forward."
In July, after months of unsuccessfully trying to engage with Jack Spade to discuss their concerns, the VCMA filed an appeal to have the company's permit reconsidered. Because the filing occurred after the specified window for appeal had passed, the VCMA must first be granted jurisdiction by the Board of Appeals, which is the subject of Wednesday's hearing.
The VCMA maintains that local businesses were given insufficient notice of the permit in the first place, and point out that the person in charge of notifying the Mission Merchants Association is a paid consultant of Jack Spade. Because of the extenuating circumstance, they have requested the Board of Appeals to allow the case to move forward.
Since then, the coalition has broadened to include a number of community organizations and concerned residents. Supervisors David Campos and John Avalos have also submitted Letters of Support for the VCMA's appeal. While the VCMA has pointed out that Jack Spade may serve to push out local businesses by increasing rents in the neighborhood, Mission-based organizations and residents have found common cause in the idea that the community should have a chance to speak out when big business wants in.
The effort to oppose Jack Spade comes as the debate around chain store regulations in San Francisco heats up. Six of San Francisco's 11 supervisors—including moderates London Breed, Mark Farrell and Scott Wiener—have either introduced successful legislation or proposed ordinances that would bring the controls to new neighborhoods or define more businesses as chain stores, the SF Examiner reported. Meanwhile, the Planning Department has commissioned a city wide study on the effects of formula retail, slated to be published in the fall.