You've probably heard that Adobe Books had to leave their 16th Street location recently, and relocated to a new location on 24th Street. You've probably also heard that Jack Spade, an upscale retail store that is a spin off of Kate Spade which is a subsidiary of Liz Claiborne, was planning to move into Adobe's old location well before Adobe had even publicly conceded to leaving. (For reference, check out Kevin's reporting here)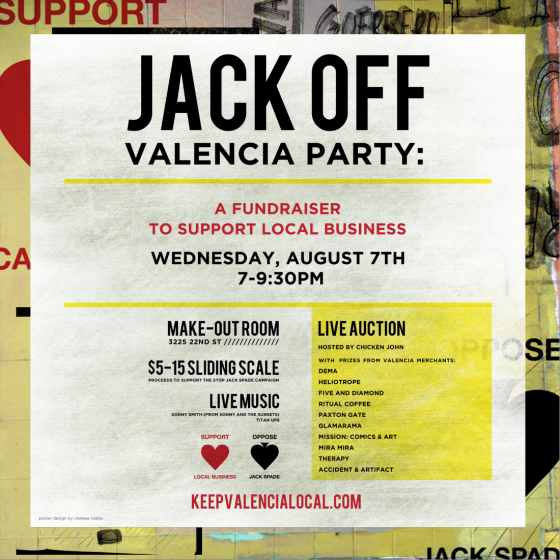 Well, a bunch of "Valencia Corridor" businesses are opposing Jack Spade as a formula retailer brand from a multinational company, and therefore not a part of the Mission community. The opening of a store like this will pave the way for more companies to take root in the neighborhood, and push out the local businesses. Makes sense to me.
I'd also add that they really only appeal to a certain kind of well moneyed, overly groomed young urban professional scenester, but that's pretty much the Valencia Corridor in a nutshell.
Anyway, you can sign their petition here, and the event should be fun, with proceeds going to "support the Stop Jack Spade campaign".