Jesse Fernandez has been running a multimedia comedy show called Things We Made at The Dark Room Theater on 18th/Mission for over two years now and I have a feeling it's pretty funny.   Sure, "multimedia comedy show" sounds kinda douchey, but it can't be any worse than the things you currently laugh at (Seth Rogen? Are you kidding me?).  Be honest with yourself: you have a shitty sense of humor.
But back to Things We Made.  The relevant deets: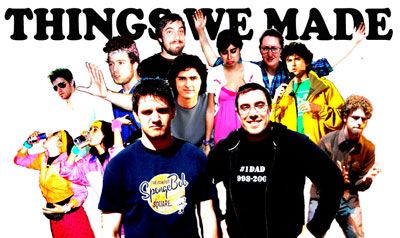 "Things We Made" is a comedy show that presents a salad of wit, characters, videos, illustrations, movement and music. It's an atmosphere to share unconventional and often brilliant creations. Patrick Bulger and Jesse Fernandez host this monthly conduit of San Francisco's original and delectable humor.

When: 10:00pm, 10/17/09

What: A comedy show called "Things We Made"

Who: Chris Garcia (The Onion's Aristocrat Award-winner), Donny Divanian (San Francisco Fringe Festival), Chris Thayer, plus the Things We Made Cast!

Where: The Dark Room Theater on 2263 Mission Street (between 18th and 19th), San Francisco, CA 94110

Cost: $10

For more info: 415-401-7987, www.thingswemade.com , www.darkroomsf.com , wsup@darkroomsf.com
Go on and see it!
Chris Garcia, I remember being pretty funny.  I vaguely recall my bf and I trying to impress him with jokes one night at maybe the Hemlock and walking away feeling successful, but let's face it.  We weren't funny.  Sorry,  Chris.