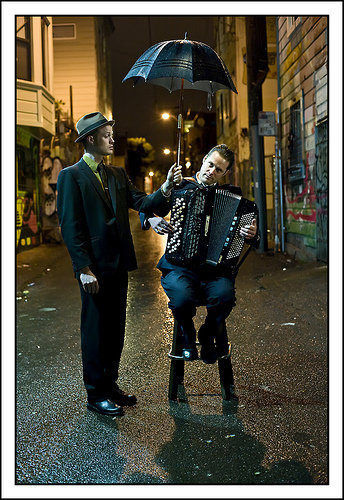 San Francisco's Mark Growden is finally back from months of touring and he's playing at the Porto Franco Art Parlor on Liberty and Valencia this Friday. The last Mark Growden show of this type sold out pretty quick, so only advance tickets are available. Grab them here.
Mark is an amazing songwriter and musician who plays the chromatic button accordion, an instrument that is pretty damn rare in the states. You pretty much have to walk into an accordion shop, glaze over the bountiful piano accordions, and say, "fuck it, I want to play the harder one". I guess the added bonus is that no one will ever ask to play it during your set break. If only I had a nickel for every time some dude walked up to my guitar and said, "hey dude nice axe, hey can I show my friend this RHCP tune I just learned?"
Oh, have you seen that video of Mark Growden playing bicycle handlebars? It's outta sight!
BTW if any of you musically-inclined cyclists are into collaborating on an all bike parts band ("bikestra"), he's totally down.