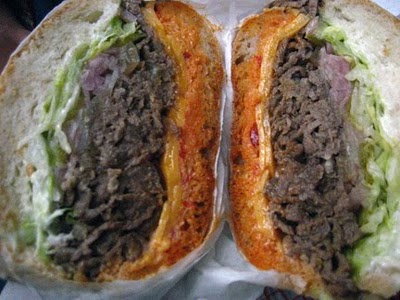 (pic courtesy of breadxbread)
Josh from TCB Courier says:
We have started working with Rhea's Deli to offer free delivery within the mission for Rhea's Sandwiches and dry goods. We are now delivering from 2 – 9 pm daily, and any order around $10 or more gets free delivery via TCB.
Rhea's Deli has been winning over lots of folks lately. It's easy to walk past this unassuming corner store and not realize that the sandwiches of the gods are waiting for you within.
At the recommendation of this very blog, I went there a month ago and had the Korean steak sandwich. It was the best sandwich that I've had in a very, very long time. Though, I gotta admit if that's their idea of "mild" I'm not even gonna touch their "spicy". They are also an honest-to-blog corner store, so throw in some Advil while you're at it.
In case you didn't know, TCB Courier is a bike courier service that will pick up and deliver pretty much anything for you. They are on bikes so they will get you your shit faster than anyone else. And yes, it is customary to tip your bike courier. Put them on speed dial now: 415-797-2255.