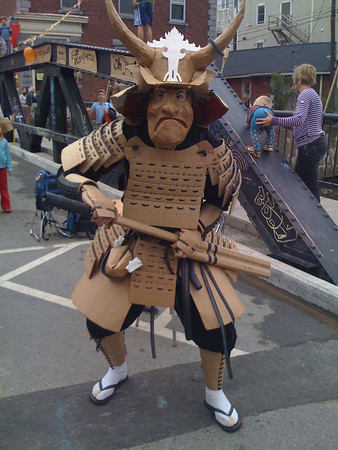 Boxwars is coming! I stumbled upon this battle one sunny day in Dolores Park a couple of years ago and didn't know WTF was going on. All I knew was that the sound of 50 cardboard tubes making that "bonk" noise when colliding with heads was absolutely delightful.
Boxwars SF – Fight or Be Recycled!

After a 2 year hiatus, the corrugated chaos featured in Scotland, Australia, Canada and Estonia returns to the streets of San Francisco. The cardboard phenom has been sorely missed and will be returning in form on the 7th of August at 3:30pm.

Don't know what Boxwars is?

1. Build a set of armor out of cardboard and tape (bonus points for creativity).
2. Build a weapon out of cardboard and tape.
3. Beat the snot out of your new cardboard clad adversaries!

Not the violent type? That's okay! Boxwars needs spectators too, come out for a fun afternoon reliving the glory days of gladiators and cheer on the warriors!
The location isn't 100% certain, but it will probably be in Dolores Park like the last time. You have about a week and a half to collect cardboard and construct your armor. More info on their facebook page.
Please don't confuse this with the Cardboard Tube Fighting League which, according to participants of Boxwars, sucks.
Previously: