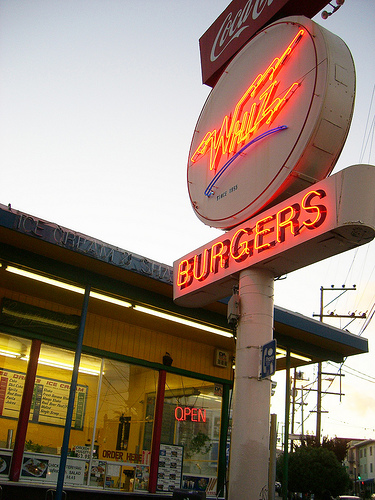 So says the Hamblogger in his latest foray into San Francisco's burger madness, where he gives the iconic Mission burger spot a mere 1.5 out of 5:
The first bite had a strange flavor that I couldn't really nail down. It wasn't the meat – maybe it was the cheese. The chopped up patty was ridiculously dry and completely void of any flavor. The bacon was the most flavorful aspect of the burger and pretty much everything else was masked by excessive amounts of mustard. Perpetual bun slippage was brought on by the avocado and made the burger difficult to eat without making a total mess. I would have been better off just getting a bacon sandwich.
Now, having never eaten there myself, I can't vouch for the quality of the Whiz, but many in the comments section came to the classic stand's defense, suggesting that the author should have tried the more standard junior burger, patty melt, or veggie burger (apparently the best in town?).  He also got taken to task for ordering the wrong kind of french fries, thus missing out on their popular waffle variety.
What do you guys think?  Is the Whiz, in fact, whack?  Or is it appropriately befitting of such seminal architecture?  Also, how rad would it be if the Mission Burger guys took over that spot?
Hat Tip and Title by brainslip