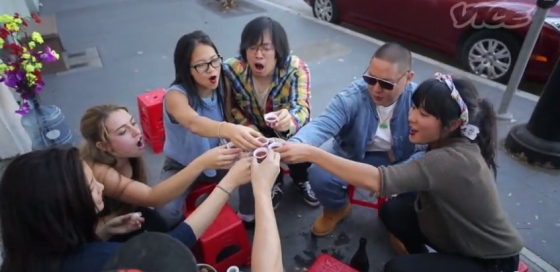 The gals from Rice Paper Scissors showed Vice TV's Eddie Huang around a few Mission locations recently, namely Duc Loi Supermarket and and Sun Fat Seafood.
He ranted a bit about the state of Asian food appreciation in the United States, then they grilled a bunch of shelled and tentacled creatures on the street while sitting in their signature plastic red stools. The food wasn't served up with one of RPS's controversial $4 artisanal smoothie shots, but rather with a Tecate topped off with a ring of Sriracha around it's mouth. How's that for fusion cuisine?
Check out the video:
http://www.youtube.com/watch?v=wLSf6rpLfvs
It's cool to see the presence of Mission Asian businesses getting a nod. Which, in my opinion, is an often overlooked aspect of the 'hood.
Eddie, says the next episode is about burritos, so stay tuned.