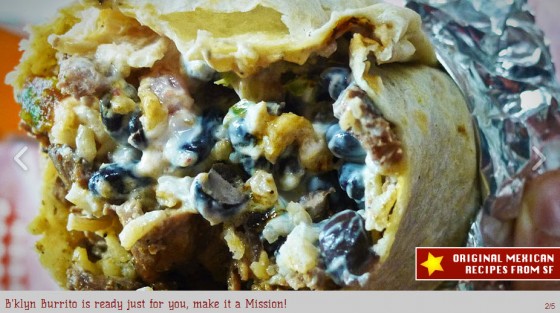 While NYC may have us beat when it comes to pizza and bagels, there's still no denying how difficult it is to get a truly decent burrito on the East coast.  Even if you manage to find a supposedly reputable spot, chances are you'll walk away with a flimsy imitation wrapped up by some skinny-armed hipster (or even worse, THIS crime against humanity).  It seems like every year there's a new taqueria claiming to offer that exclusive Mission burrito experience no matter how disappointing previous attempts have been, and B'klyn Burro is the latest to give it a shot:
Like Tony Bennett, I left my heart and my appetite in San Francisco's Mission District.  But now San Francisco Mission burritos are coming to Brooklyn with a taquero (burrito/taco chef) from one of the most respected taquerias in the game. Bite into one of our amazing burritos and you'll be teleported to 24th and Mission, San Francisco. Food this good needs to be on both coasts.  Well guess what, IT IS!
From the looks of things, this place will only be popping up at select locations this week rather than going the brick & mortar route, so any New Yorkers curious to test its authenticity better hurry up.  I expect a fully-detailed report!