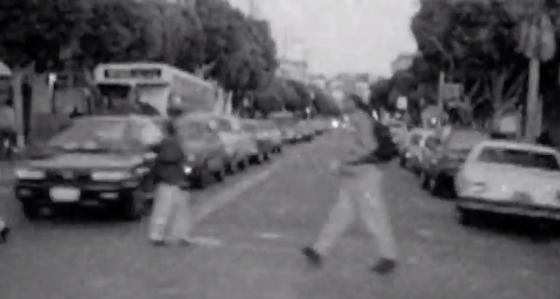 Just got back from a fight with one of my best friends. We went to dinner at Chino and then had a drink at ABV and got into a long thing about political participation and net neutrality and revolution and convictions. He told me I don't give enough of a shit, I made fun of his corporate job and BMW.
Then I got home and opened an email from Adam, of Jawbreaker (the most legendary Mission-based band of all time):
I just uploaded this to the Jawbreaker youtube page. It's from a roll of super 8 film that i found over 20 years after I shot it — shots of Valencia and Mission between 16th and 24th. I set it to our song "Boxcar." Check it and feel free to post if the spirit moves you
Man, it moves me like crazy. I love the Mission. I love how it changes. I love remembering how it was one decade ago, and I love watching videos about how it was two decades ago. I love reading articles about how it was in the '80s, and I love my parents' foggy remembrances about how it was in the '70s. I love Burrito Justice's futurist visions of how it will be in the '20s and in the '30s and '40s and beyond. (I even love when I almost get run over by a Ferrari while it's looking for parking outside Trick Dog.)
I love Obama and I love net neutrality and I love the Mission and I love my friends.
And I love a girl I know, a Mission girl, and how I got to see her sing "Boxcar" at karaoke in another state once upon a time, and how that was basically the best night of my life, so far away from home but feeling super-connected via this girl and this song… and thus feeling connected to everything and everyone, ever, and just loving life.
The thing is that I basically missed out on Jawbreaker, like most of us did probably, because we're just a little too young or a just a little too from-somewhere-else or whatever. But Jawbreaker persisted, thanks to older pals talkin' shit and making mixtapes and blog posts and playlists, and thanks to Thorns of Life shows at Thrillhouse Records and thanks to Forgetters shows at similar spots in Brooklyn or wherever — and thanks to lovable midwestern girls who dug Jawbreaker early and did whatever it took to make their way to California and San Francisco and into our hearts.
Why can't we all just get along and save the world and abolish government and be in love forever?
Ugh. Let's rock:
Thanks, Adam!