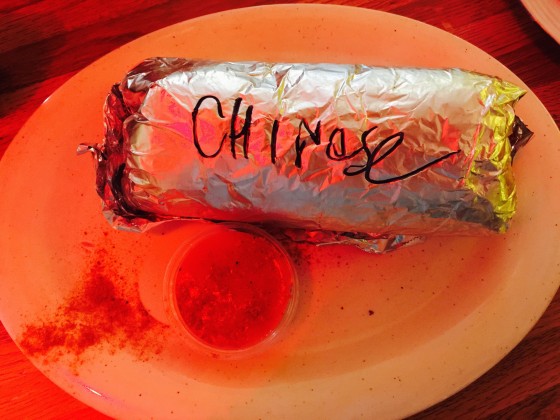 After years now of salivating over the wild stuff Danny's been doing in New York (and posting on Instagram), I was thrilled to find out they're about to do something wild here.
Danny's been back in town for a couple days, perfecting the recipe and preparing to formally launch this new concept. They're gonna do one version at a time, and change it up maybe every month or so. It all kicks off at Mission Chinese Food on Thursday.
Yesterday for lunch I had two halves of the Pork Ma Po Tofu/salt cod fried rice version, one half with cheese, one half without. (The verdict: "Fuck yeah cheese.") This is a great burrito, and a very fulfilling lunch.
Here's Danny posing for a photo for Lucky Peach: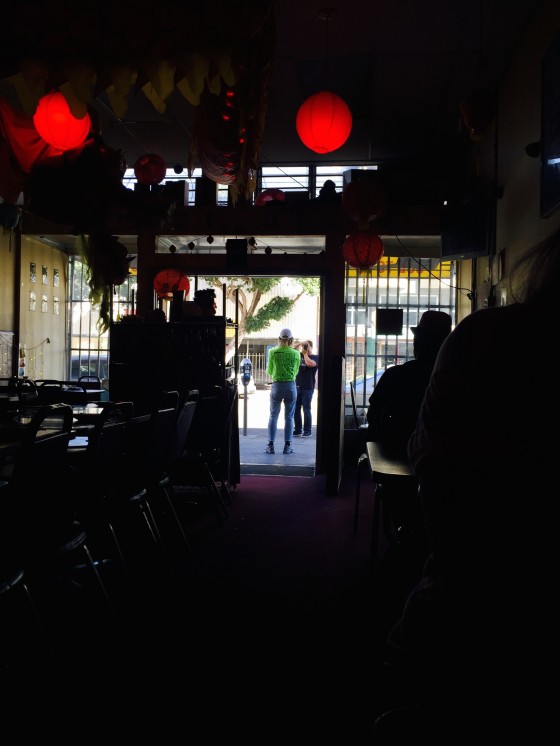 Then last night I got really drunk and went back for the Kung Pao Pastrami/salt cod fried rice version (which I think is the one debuting for real later this week).
Initially I wasn't gonna publish a photo of the inside of the burrito, so as not to spoiler it for anybody, but it's just so darned colorful: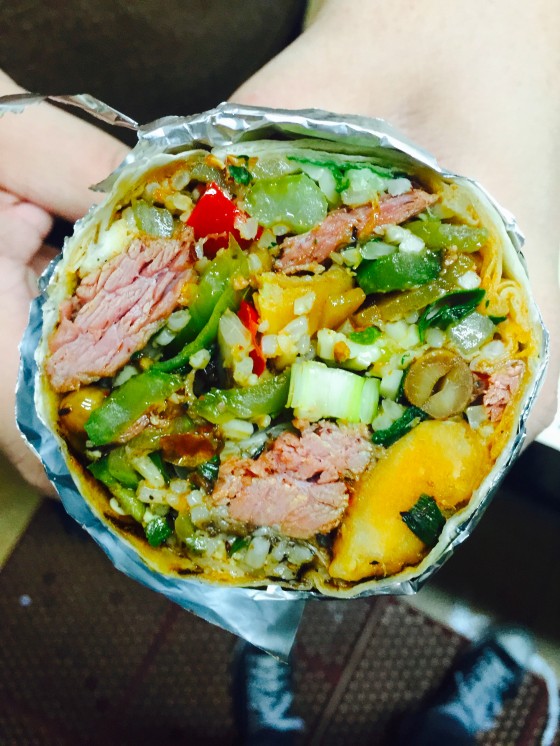 God damn this was a great burrito, and an INCREDIBLY awesome late-night option.
Here are Danny and partner in crime Anthony Myint, late last night, making plans: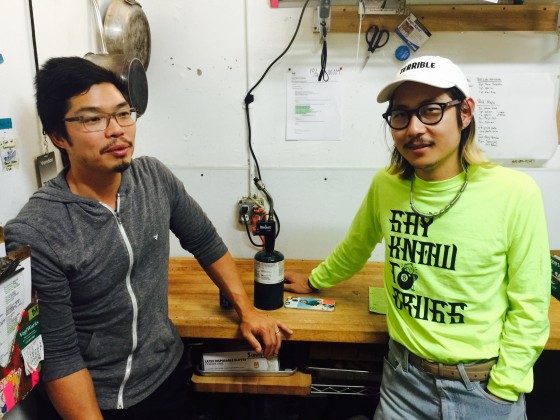 Lastly, I woke up hungover and had a cold leftover Chinese Burrito straight out of the fridge, while watching the first episode of the new Daily Show. It was a little soggy and still really nice and spicy. It perked me right up. This is a great burrito, and a KILLER hangover cure.
In short:
Great for a normal sober lunch
Great for a drunken late dinner
Great for fixing you up the next morning
Thanks, everybody!
UPDATE: I forgot, the pastrami one comes with a dish of crema that you can drizzle onto each bite, and they all come with a nice hot sauce too…
(These last two photos by Jess Kelso, thanks Jess!)