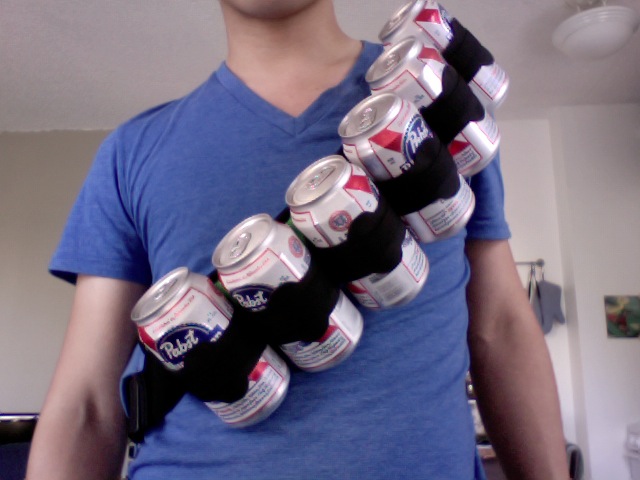 Shortly after reading my thinly-vieled plea to reinstate the Beerdolero, the fine folks at Rickshaw Bagworks invited me down to: A. Obtain a hand-made Beerdolero. B. Tour of their facilities in the SF's Dogpatch district (allegedly named by a drunkard). C. Dance an Irish jig for them (no joke).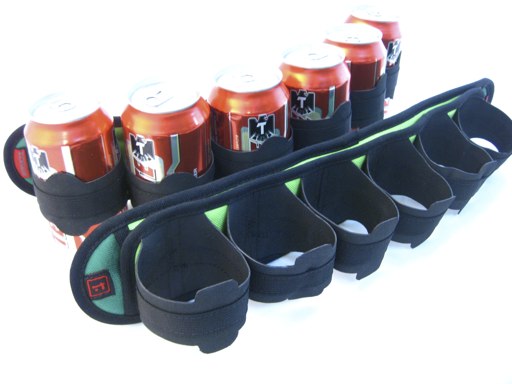 The Beerdolero works great. It is a velcro-secured sleeve that you can attach to any strap, including the one affixed to your Gibson Flying V. Cans fit very snugly into the sturdy loops and wont fall out. It does weigh down the front a bit, so it helps if you are carrying something in the bag to counter-balance.
So why do you want this, aside from the fact that it completes your hipster douche outfit? First of all, this may be the only one you'll ever see. You can't buy it from Rickshaw because they only offer them as promotional items. It's also clear that your beer-carrying situation is dire. How dire? Well, you're gonna have to tell us… with poetry:
Post a haiku lament about your current beverage transport methods. Be sure to use a real email address in your comment. The best haiku, judged somewhat arbitrarily by us and Rickshaw, wins the Beerdolero. You have until Friday, 3pm to submit
Oh yeah, it's probably bad to encourage drinking and cycling, so be sure to load this baby up with, uh, Hansen's if you're gonna hop on the bike.
Thanks to Lisa, Kati and the rest of the gang at Rickshaw Bagworks for being awesome. Rickshaw Bags is an environmentally conscious and completely local company that puts out super high-quality customized stuff. Be sure to stop by and say hi to them.
Update: Kati says that "Beerdoilero" should be spelled "Beerdolero".
Also, more about the Beerdolero from Mark Dwight at Rickshaw Bagworks!
I just wanted to give a little background on our Beerdalero… we made the first three Beerdaleros for our company debut at Interbike 2008, just for fun, and raffled one each day at our booth. We have never made it available for purchase. For one thing, it takes about 2 hours to make a Beerdalero — and we make them right here in SF — so they would be ridiculously expensive at retail. Besides, not everything needs to be commercially exploited. We prefer to make just a few now and then for special occasions and special friends — like Mission Mission. Happy Cinco de Mayo! -Mark