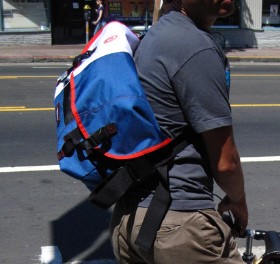 A photo of some cool kid wearing the all-new Dolores Chiller from Timbuk2 has caused quite a stir in the comments section of a Bikes and the City feature on last weekend's Sunday Streets event in the Mission. Sample vitriol:
These obnoxious hipsters are ruining our neighborhood with their "pay to play" ironic bullshit. I'm begging you to go elsewhere and leave us locals out of your fantasy land.
Link. Feel free not to contribute to the extremely tired, everlasting debate about hipsterism.
In any case, the all-new Dolores Chiller from Timbuk2 is an absolute delight! Looks like a messenger bag, performs like an ice chest! (I'm on the wagon right now, so I've yet to actually use it to haul PBR or MHL to the park for a picnic, but it totally kept my Very Berry Crystal Geyser cold the other day.) It's fully insulated and seals up nice and tight, and even has a built-in bottle opener (affording me a lighter load on the keyring I keep carabinered to the outside of my pants).
Note that it also functions the way a traditional messenger bag functions: You can put books and sweatshirts and other dry goods in it and use it to transport them around town. And what a color scheme! Perhaps most importantly, the company had the presence of mind to name such a highly useful — and thoroughly handsome — item after the undisputed best place in the entire world ever, Dolores Park. Kudos to Timbuk2 on a job well done. Click here to view the product page for the all-new Dolores Chiller from Timbuk2.