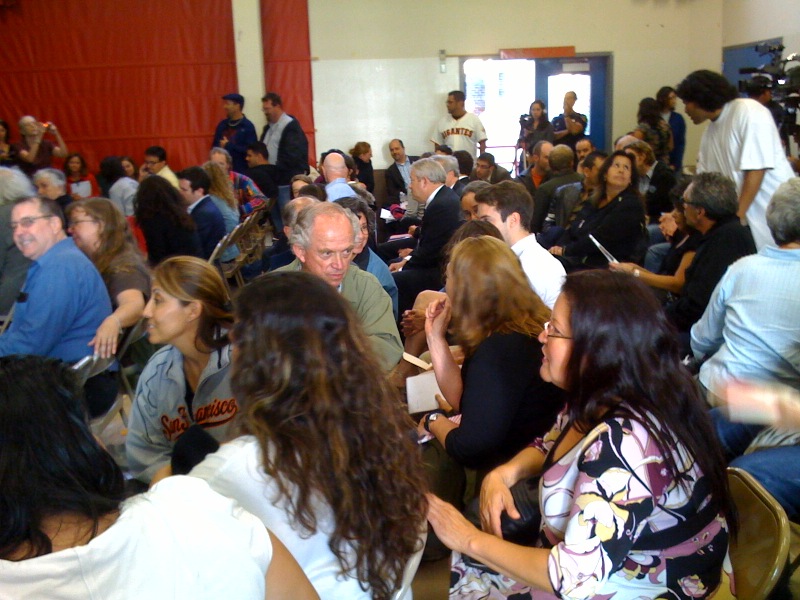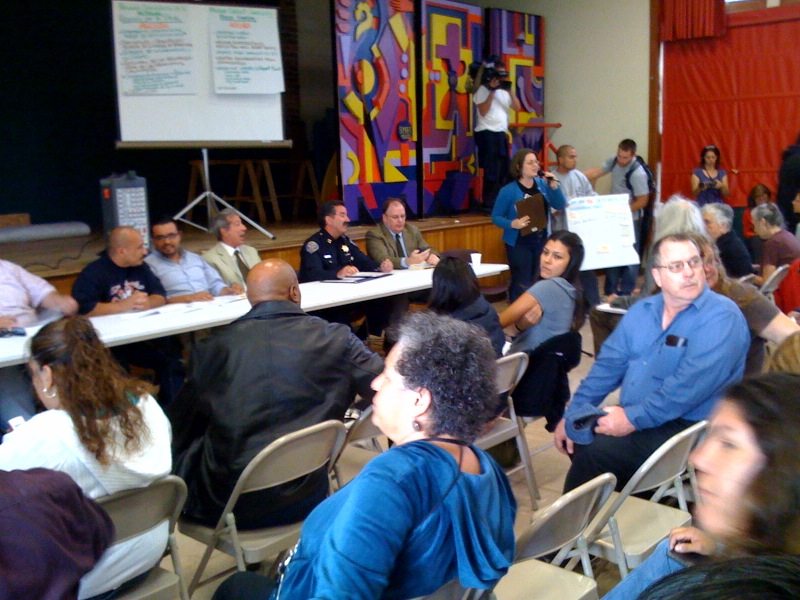 A few Mission Mission readers, as well as Mission Mission itself, attended the meeting. Reader dogfella weighed in first:
Overall somewhat disorganized and not really sure what the goal of the meeting was other than a soapbox.
Various community-based organizations used the soapbox to preach one thing: Instead of spending more and more money on more and more cops, put at least some small part of it toward more outreach programs. People are upset that patrols focus on Medjool and the Valencia corridor instead of the more residential parts of the neighborhood, where schoolchildren are getting stabbed up on a regular basis. Instead of SWAT teams and K-9 units, they want rec centers to be open later.
Reader dogfella also calls attention to the poor turnout:
Considering that 7 people were killed in the last week, turnout of about 110 people (incl. city officials, non-profits) seems pretty dismal.
To put that in perspective:
*SFGate reports that Glen Park's community meeting in response to a stabbing / store robbery had 300 attendees.
*Last year when SF was going to increase street cleaning in the Mission to 2x's a week per side, over 100 people stormed city hall and Tom Ammiano's office to protest that the city was adding street cleaning to increase ticket revenues (never mind the crazy amounts of garbage on the streets).
So where was everybody? John offers this theory, which I hope is erroneous: "the mission has been taken over by hipsters. That's why nobody went to that meeting, hipsters dream about 'change,' they preach about it, but they always expect others to deliver those changes."
Next up, reader zinzin offers another, possibly related possibility:
the meeting was primarily for the Brown people that live in the hood, have lived here since the 50's – the Latino community from whom the artists / punks / hipsters / yuppies stole the neighborhood – because it's them that are having their kids killing one another.
for the most part (i'm sure there are exceptions)…no one from any of these newer groups can really understand what it must be like to have your kids in the life, blamming away at one another with guns. kids!
Blam! Is this why turnout was poor? The punks and yuppies don't get it? Too surreal, all these grisly murders? Do we need a concerted effort to get everyone in the neighborhood more engaged with everybody else? Maybe so.
At the meeting, I met an older dude named Mike who's been a Mission resident for decades. He said he'd seen it all before — the violence, the efforts to curb it. So I asked if any particular elements of past efforts had seemed valuable at all, and without batting an eye, he said yep. There once was a lady cop who rode her bike around the neighborhood, meeting people and making friends and generally getting engaged with the community. She made neighbors feel at ease, everyone felt good about everything, and then they shipped her off to another precinct.
In any case, Mike sees this kind of police presence as supremely valuable, and one can see why. An engaged police officer is a better police officer, and an engaged neighbor is a better neighbor. Better cops, better neighbors — better neighborhood.
Update: Photos by dogfella.