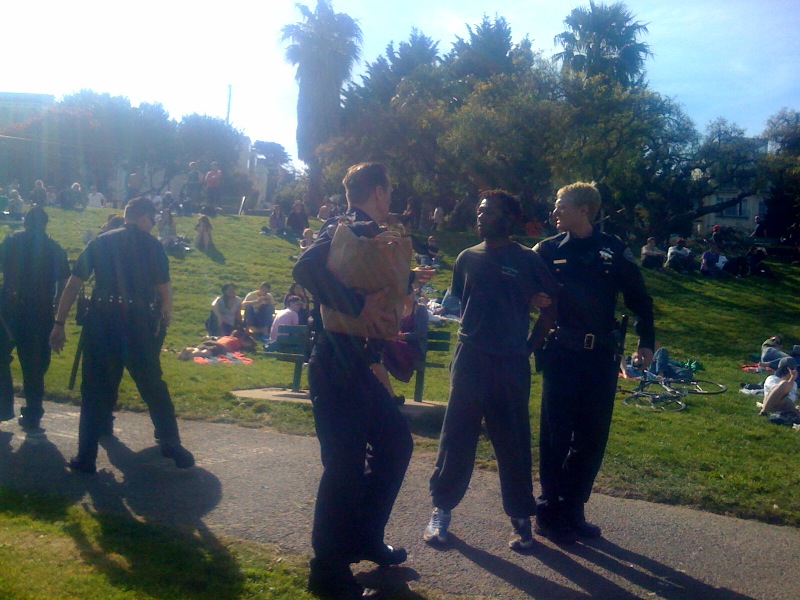 Just in case anyone was wondering why Noe Valley *Buzz* is MY FAVORITE NEW NEIGHBORHOOD BLOG, allow me to enumerate the ways in which I adore their account of an epic arrest made at Dolores Park on Saturday. (They get -1 for tardiness, but who cares really?)
1.) They call the J-Church "the Jaaaaaaaaay Church."
2.) Pure poetry: "And dood, this mo-fo was HANGRY! Probs sick from the hospital jello or maybe he had the Methadone Munchies but he was fixing to rob a b*tch of their picnic snacks from Bi-Rite like craaaaaaaaaaazy."
3.) They censor "bitch."
4.) Their take on the SFPD? "Legit. Tax dollas at work."
5.) They love the truffle guy as much as I do: "He's delish tho, brown and stoned. We thought he was Brazilian but he denied it…just really really hot."
6.) How about this killer photography? I like the "Noe cop" cradling a bag of groceries.
I mean, the best I could muster was this Twitter tweet, but they delivered a joyful, action-packed feat of storytelling. They're delish.
However, they do claim Dolores as part of da Noe. What do we have to say about that?
Link.