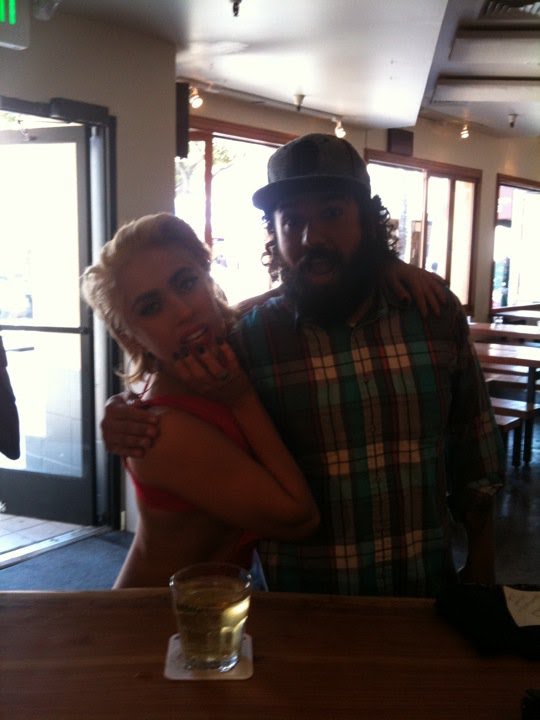 We finally managed to track down the actual photographer from last Friday's Gaga-fest and had a chance to chat and set the story straight.  Everyone, please meet Claire, the Rosamunde-employee-turned-paparazzi, whom we last observed being a real scooter hero.  I'm just going to do my best paraphrasing what she told me, so let me get out of your way here real quick.
"It was Wednesday at about 1:30pm.  There were only two people or so eating in the restaurant when Lady Gaga came in accompanied by three Secret Service style bodyguards and her boyfriend Luc Karl (of drunkdiet.com) while another bodyguard waited in a car.  They had been driving up from San Jose after playing a show there Monday and had six hours to kill in San Francisco before they continued on to Portland for a show on Thursday night.
Gaga had been harboring a craving for Mexican food, so the couple made a quick stop in the Mission because they had heard it was the place to be for burritos.  However, the pop superstar saw the word "Sausage" on the Rosamunde sign and thought it was soooo funny that they just had to stop in.  Despite his belief that beer is the new chocolate cake and is bad for his abs, Luc nonetheless ordered a Unibroue Blanche De Chambly while Gaga settled for a nondescript white wine [pictured--the Zinfandel perhaps?  Also, this unfortunately means that Lady Gaga did not in fact stick a Rosamunde sausage in her mouth as previously believed].
After I served them, the couple chilled out with their drinks for a bit while messing with their phones.  At one point, Gaga asked me how to spell "Diarrhea," presumably for her Twitter or Facebook or something.  As I spelled it out for her, she noticed my jewelry and asked me where I got it.  I told her I made it all myself (I have a degree in Metalsmithing) and she got excited and said she wanted me to make her a necklace for the MTV Music Awards.  After a few OMG's I realized I didn't have any other samples with me, but she told me not to worry and to just stop by Waterbar (where she was having dinner later that evening) after I finished my shift to drop some off.
Anyway, my coworkers still didn't quite believe that it was really her, and my buddy Goose (the other guy in the picture) who was hanging out at the time was completely oblivious.  He asked her, "So, uh, do you have a band or something."  "Oh, so is it your band, or are you just in the band?"  "Really, what's it called?"  Gaga was surprised but amused, and just said, "Lady Gaga," causing Goose to do a double take and stammer an apology or something.
She ended up hanging in the nearly empty Rosamunde for around 2 hours, just chatting away with me and some of my coworkers.  It was a pretty awesome experience–she's a rad lady!  Her bodyguards kept reminding her that she had reservations at Waterbar at 7pm, but Lady Gaga was determined to get a real Mission burrito before she left San Francisco, so she asked us where she could find the best one.  We all agreed that she should check out El Farolito, which was of course located just kitty-corner to our spot.  With that, Gaga bade farewell, headed across the street with Luc and her bodyguards, and probably shoved an Al Pastor Super into her face about 15 minutes later.
Of course, I ended up having to work a double shift and by the time I made it all the way down to the Embarcadero, they were gone.  So if you see this, Lady Gaga, roll over to clairehummeldesign.com [the site isn't functional until next week, but here's the Facebook link in the meantime] and make me famous!!!"
Previously: