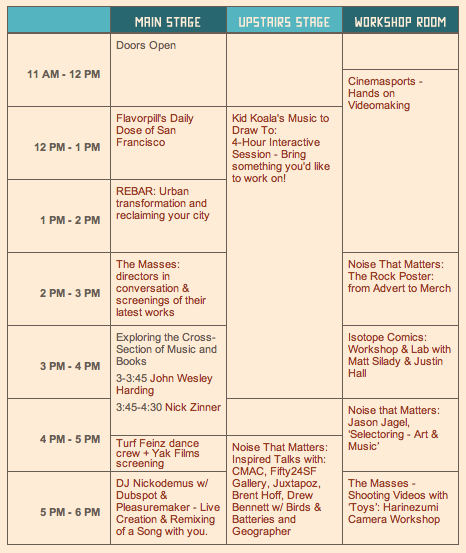 Noise Pop 2011 has been going strong for a few days now, but today marks the beginning of what they're calling their flagship event. It takes place at Public Works right here in the Mission, and it's an all-day affair featuring workshops and readings and a four-hour interactive drawing session. Here are details on a couple highlights:
REBAR is the organization behind Park(ing) Day, and my favorite parklet. Today, they host a brainstorming session:
All cities contain voids, loopholes, and niche spaces: pockets of unscripted wilderness that can be explored for their creative potential. Join Matthew Passmore, cofounder and principal of Rebar, for a brief overview of Rebar's work followed by a workshop that invites participants to bring a photograph or description of a niche space from their own environment, whether urban, suburban, or rural. We will collectively brainstorm ways to occupy these niches in ways that fulfil unmet social needs and improve the quality of our shared habitat.
This will be a hands-on workshop of drawing, thinking, and discussion.
I mentioned this next item before, but just to recap, Nick Zinner (of Yeah Yeah Yeahs) is performing with some friends:
Please Take Me Off the Guest List is a multi-media presentation of the new book by Nick Zinner (of the Yeah Yeah Yeahs), Zachary Lipez, and Stacy Wakefield. A slideshow of Nick's photos from the book is accompanied by ambient music played by Nick and Stacy while Zachary reads stories.
Culture Club continues into Sunday as well. See here for the complete schedule and descriptions of every event.