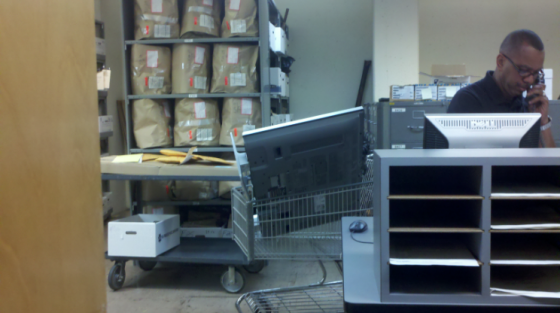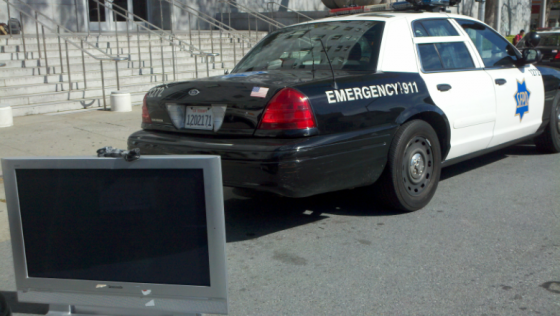 First, our buddy MC found a bigass TV by the side of the road and asked for some help deciding what to do about it. Then, based in part on advice from Mission Mission readers, he turned it over to SFPD, and then had to deal with a months-long runaround over a TV he didn't even particularly want. As of today, the TV is his, but he still needs some help. Here's the deal:
After the requisite 120 days, no one had claimed the TV, so by all rules, I had a right to re-claim my found 42″ Plasma TV — the only question was: would the SFPD Property Room 'lose' it?
The short answer: no. So, kudos to them for keeping it honest.
As I waited to be called up a rough looking dude with neck tattoos was before me. He asked for, and received back, his $3,100 from a previous police seizure.
When the judge called me case, he chuckled and, like the rest of everyone who hears the story, said "So you found this on 24th and Capp? Really?" After the SFPD Attorney, Ronnie, said that she was prepared to release it back to me, the judge declared, "Congratulations — you are now the proud owner of a 42″ Plasma TV," with a smile.
In minutes, I had the release order and was told to head to the Property Room in the basement. As I got there, it reeked of pot; they were blasting Ezay E, followed by the Humpty Dance. It was a pretty great site. After I handed over the order, and the cop behind the counter again laughed about the situation, he came back after 30 minutes with the TV. At this point, another dude trying to get back about 4 guns, and the guy with the money were intrigued, so I told them the story.
I ended with my plan to donate to an old folks home or something, and the rough guy said, "Donate to me!" to which I quickly replied with "Donate? You just got $3,000 bucks!" Which, then, he offered to buy the TV on the spot right there. I didn't want to wait around to see how long it would take him to get cash back form the cops, so I carried the thing down the steps of Hall of Justice and flagged a SUV Taxi and threw it in along with my bike and brought it to my office. Now, it's sitting on my coworkers desk while I figure out what to do with it.
So, the question is: what awesome organization near 24th & Capp would benefit from this large TV? I don't really like the idea of kids watching TV, but maybe an old folks home? A waiting room for a free health clinic? Day Labor Center? Recommendations welcome!
Weigh in below: