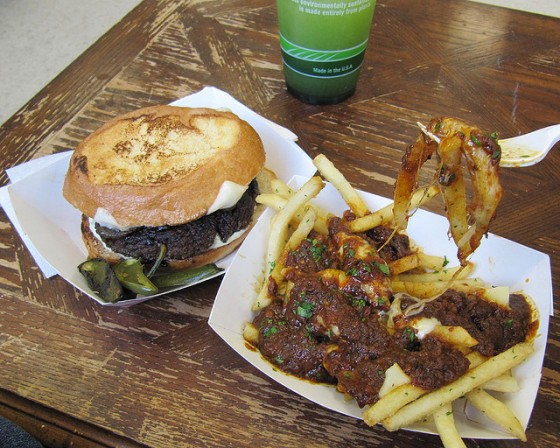 I'm so excited, I'm having a hard time writing this post. Can't think straight. Here's the deal: Our buddy Chef Anthony Myint just told us he's doing the food for the boutique bowling alley thing we heard about last month.
It's called Mission Bowling Club, and it sounds pretty rad. More importantly, the menu will include the MISSION BURGER — that storied mass of heaven incarnate we all miss so much. And get this: VEGAN BURGER TOO. That's right.
Phewf. I'm gonna need a nap just thinking about this. Can't wait! Thanks, Anthony!
[Photo by porkbelly24]
Full press release after the jump:
Announcing MISSION BOWLING CLUB, opening Spring 2012
For Immediate Release
MISSION BOWLING CLUB is a new six-lane bowling alley projected to open in theMission (3176 17th Street, near South Van Ness) early next spring. The convertedwarehouse will feature a spacious bar, a dining room with banquettes, a sunnypatio, a mezzanine overlooking the lanes, and leather couches situated lane-side. MISSION BOWLING CLUB will also offer covered bicycle parking, proximity topublic transportation, and has plans to work with youth serving non-profits in theneighborhood.
MISSION BOWLING CLUB is spearheaded by Sommer Peterson and Molly Bradshaw (twoof the co-owners of mini bar SF). Peterson and Bradshaw will continue the art programthey developed at mini bar, by featuring local artists in rotating shows throughout thespace. The restaurant program will be headed by Anthony Myint, founder of MissionStreet Food and Mission Burger (and current partner in Mission Chinese Food andCommonwealth restaurants). Myint's menu will feature the "Mission Burger" and othertechnique-driven comfort food, with a portion of sales going to local youth-relatedcharities.
MISSION BOWLING CLUB will combine the fun of bowling with the warmth of a cozyneighborhood hangout, for a modern take on an old-school pastime. It will be awelcoming spot, where people can drop in to go bowling, have a drink, enjoy a meal, orall of the above.
SUMMARY:6-Lane bowling alley with full bar and restaurantLocation: 3176 17th StreetHours: Open Daily Monday – Friday 5pm-2am, Sat & Sun 12pm-2am. (Family bowl from12pm – 7pm on weekends; 21+ on weekdays.)Co-owners: Sommer Peterson and Molly Bradshaw (co-owners of mini bar)Chef: Anthony Myint (formerly of Mission Burger)Opening: Early Spring 2012