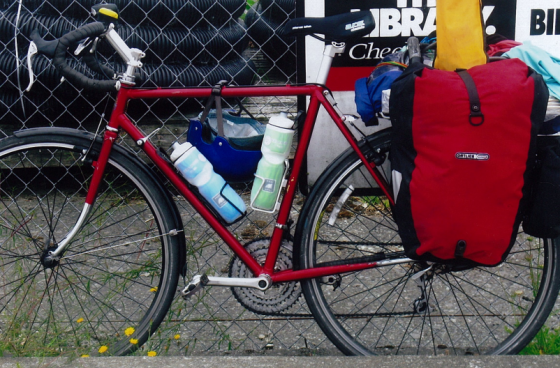 An email from reader Cat:
Someone (ostensibly a neighbor, since only they would have access) hopped my fence in the Mission/Potrero area, busted into our garage, and stole a bike from our Canadian friends who had ridden down here from Vancouver, as well as 2 guitars. I spoke to a cop who recommended the Laney Flea Market, by Laney College in the East Bay. Apparently, there are tons of stolen bikes there, and mostly if you show the guys a picture and tell them it's your [stolen] bike, they'll give it back to you to avoid trouble. The cop I spoke to was actually really committed to recovering stolen bikes, though he said that they only have about a 10% success rate. Still, better than nothing, right?
Also, the officer told me he recently recovered a Bianchi and a Fuji, so if anyone got one of those stolen recently, send me the details and I can let you know if it matches the description. Attached is a photo of the bike that was stolen. If anyone sees it, there is a reward, as it's something a friend custom built.
So if you see Cat's, get in touch, and if Cat's talking about yours, get in touch!