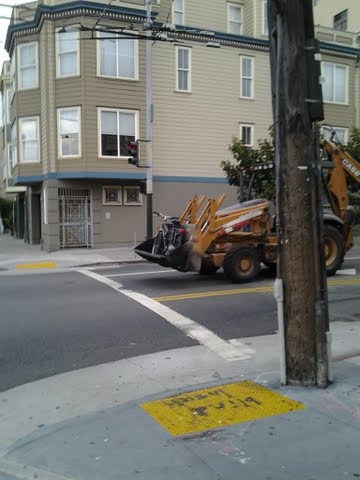 It certainly appears to be a possibility considering this account by eyewitness Bernard, who also snapped the above photo.  Here's what he had to say about the situation:
I took this picture yesterday at 6pm on 25th and SouthVaness. Unfortunately my phone died just after I took this picture otherwise I would have called the police. This tractor was carrying away a motorized bike from mission then down s.vaness. It was being followed slowly by a sketchy grey older suv. There were three latino males in the van most were in their late thirtys to early forties. The tractor driver had on construction cloths and construction hat that almost made it look legit.
The only other possibility I can surmise is that someone's non-functioning motorbike was being transported to a mechanic by a buddy who happened to have  some construction equipment at his disposal.  Of course, that's a bit of a stretch too, but is it crazier than someone making off with a motorcycle in a Bobcat?