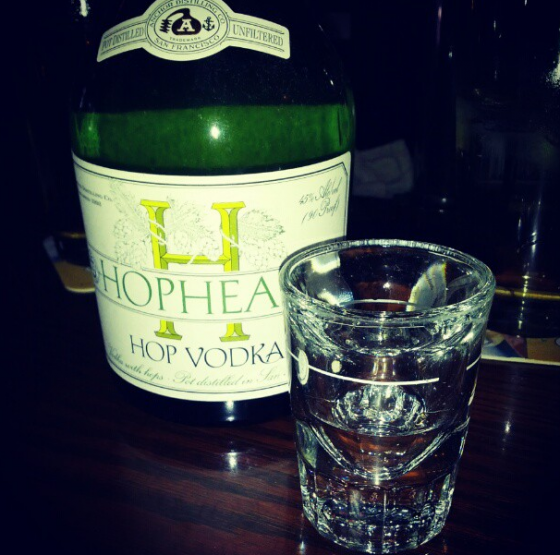 So I'm over at Thieves Tavern for "Fuckin' Wednesdays" on Wednesday afternoon, and bartender Luke sets this bottle in front of me and says, "Have you seen this?" And I'm like, "'Hophead'? Sounds dum– HOP VODKA???" Full disclosure: I myself am not a major hophead. I can appreciate the qualities of a fine IPA, but I usually prefer to drink beers that don't make me sneezy and deaden my taste buds to other flavors. (I guess I could see an allergist or something.)
Hophead is basically like essence of hop. Real powerful. You have one sip and your mouth tastes like you've been drinking Blind Pig all afternoon. And some days, that's exactly what you want to feel like you've been doing, am I right? Luke also mixed up a Hophead dirty martini, which worked pretty well, the salty and oily mingling with the hoppy nicely. It's definitely weird. But it's fun to drink.
So if Beer Week has you all beered out, but you still require a hop fix, Anchor Distilling's got you covered.
Drink of the week is brought to you by Poachedjobs.com.