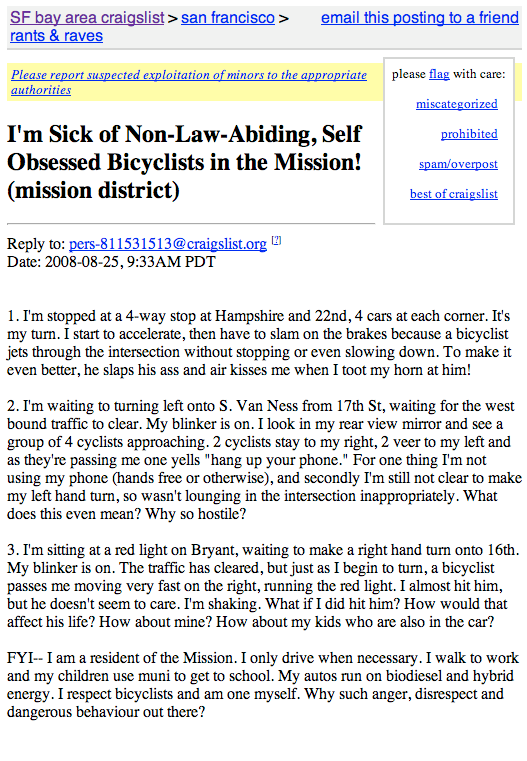 This Craigslist post asks why cyclists have to be so rude to drivers (click thumbnail to make larger):
I'm Sick of Non-Law-Abiding, Self Obsessed Bicyclists in the Mission! (mission district)
1. I'm stopped at a 4-way stop at Hampshire and 22nd, 4 cars at each corner. It's my turn. I start to accelerate, then have to slam on the brakes because a bicyclist jets through the intersection without stopping or even slowing down. To make it even better, he slaps his ass and air kisses me when I toot my horn at him!
2. I'm waiting to turning left onto S. Van Ness from 17th St, waiting for the west bound traffic to clear. My blinker is on. I look in my rear view mirror and see a group of 4 cyclists approaching. 2 cyclists stay to my right, 2 veer to my left and as they're passing me one yells "hang up your phone." For one thing I'm not using my phone (hands free or otherwise), and secondly I'm still not clear to make my left hand turn, so wasn't lounging in the intersection inappropriately. What does this even mean? Why so hostile?
3. I'm sitting at a red light on Bryant, waiting to make a right hand turn onto 16th. My blinker is on. The traffic has cleared, but just as I begin to turn, a bicyclist passes me moving very fast on the right, running the red light. I almost hit him, but he doesn't seem to care. I'm shaking. What if I did hit him? How would that affect his life? How about mine? How about my kids who are also in the car?
FYI– I am a resident of the Mission. I only drive when necessary. I walk to work and my children use muni to get to school. My autos run on biodiesel and hybrid energy. I respect bicyclists and am one myself. Why such anger, disrespect and dangerous behaviour out there?
Update (Friday morning): Debate is in high gear in the comments section, and it's grown to include the ol' bikes vs. pedestrians conundrum too. Meave says: "What, bicyclers, is your goddamn problem, that you are all over the sidewalks?"
Previously on Mission Mission: