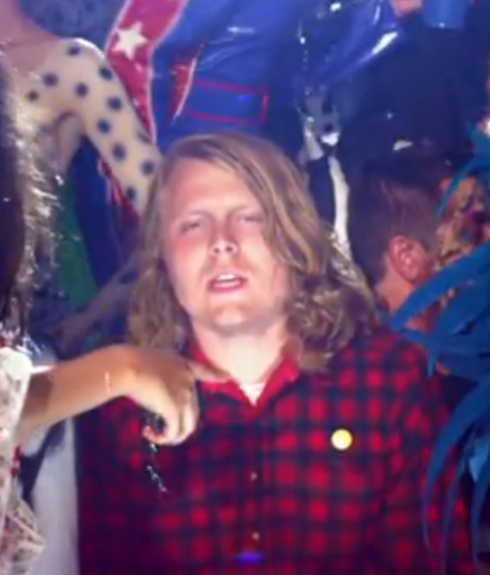 Our buddy Allie was there:
Last night I drove three hours to Cleveland to see San Francisco's Ty Segall and Mikal Cronin at a venue called Beachland Tavern. I get there at about 8:45, and Human Eye are set to play at 9, but they're not there yet. Around 9:45 Ty and Mikal take the stage, informing everyone that "we're Toad, and this is only our second show!". They play a bunch of covers. It's unexpected and awesome that they play this extra set to compensate for Human Eye's tardiness, but something during the set is less than awesome: four or five dudes, dancing way too aggressively. Now, I understand that it is a rock'n'roll show. I've been to a few before. But this is not your ordinary show dancing — these dudes are tearing each other apart and ramming REALLY HARD into everybody on the outskirts of the large circle that had parted in reaction to their rambunctious existence. They're falling and writhing onstage and stealing the microphone to shout, "HAIL SATAN!". Soon enough, Ty and Mikal are looking a little puzzled, and people are starting to get really irritated, myself included. This venue isn't huge and these dudes are taking up a pretty significant portion of space in front of the stage. After Ty and Mikal finish their set, a few security guards plow through to warn the dudes, hey, cut it out!. Human Eye still isn't there, so Mikal plays a set of his solo album. It's the first time I've seen him perform this set and it's HEAVENLY. The dudes are back, though, and aggressive as ever. It's becoming increasingly clear to Mikal and everyone in the crowd that these guys are far less concerned with having a good time and far more concerned with injuring bystanders and being disruptive for no apparent reason. They continue stealing the mic, screaming "HAIL SATAN, 666!", writhing around onstage, and pushing each other and other people around extremely violently through the set. As Mikal's set is coming to a close, he looks disenfranchised. Finally, he has had enough of the quarreling and jumps into the crowd to break up the fighting. Seeing Mikal taking action, the usually polite, mild-mannered Ty leaps from his place behind the stage and plunges into the fight.
Read on for the dramatic conclusion including Ty's epic explanation.
Here's what Ty's live set is looking like these days btw, from last Thursday in NYC:
Above screenshot is from Ty's brand-new music video.