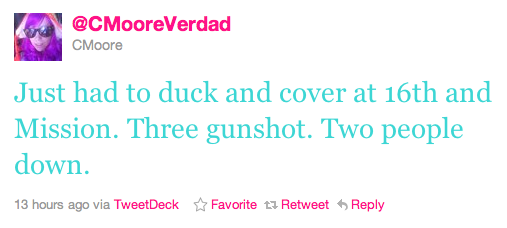 Mission Local was on the scene:
Three men were shot just before 11 p.m. on Friday night, following a brief shouting match at 16th and Mission streets. All three victims were transported by ambulance to the hospital, and two, ages 24 and 42, have life-threatening injuries.The third man, 34, is in better condition.
Police have no suspects in custody and no known suspect information yet.
Josh Gonia, who watched the scene from outside El Capitan Hotel on Mission Street, saw the confrontation build up to the round of gunshots.
According to Gonia, two men were outside of the McDonald's on Mission Street, yelling at another two men across the street at the bus stop. One man ran after another with a baseball bat.
[via CMoore]