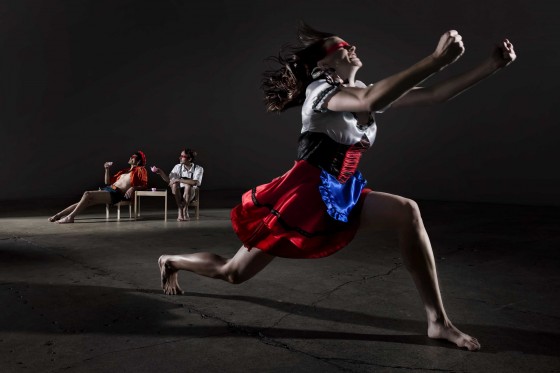 Live theater! When was the last time you saw some live theater? Z Space seems to be the place to see some, and I'll be damned if the above image isn't seriously sparking my curiosity. Here's the deal:
Z Space presents Joe Goode Performance Group <http://www.joegoode.org>  in the world premiere of When We Fall Apart, a dance theater work that examines the intricate and fragile relationship between house and body, and the determination and resilience of the human spirit. Life (and the body that contains it) is impermanent and – like everything – eventually falls apart. Goode explores the motivations that keep us building, even as life might collapse around us, by weaving the real life stories of audience & community members into the work itself. Architect and collaborator Cass Calder Smith <http://ccs-architecture.com/v3/>  provides a visual "house of art," constructed to collapse, re-shape, and illuminate the songs, stories, and movement that take place within. Featuring original music composed and performed live by Ben Juodvalkis of the band Battlehooch <http://battlehooch.com/> . Presented and commissioned by Z Space.
I like the sound of a collapsing house, and I love the sound of Battlehooch. Sucks to be reminded that everything falls apart though
To win tickets to Friday's 9pm show, tell us your best things-falling-apart story in the comments section below. Winners will be selected based on merit and awarded a pair of tickets. Contest ends at noon tomorrow (Thursday).
Buy tickets here. Now here's another pic: