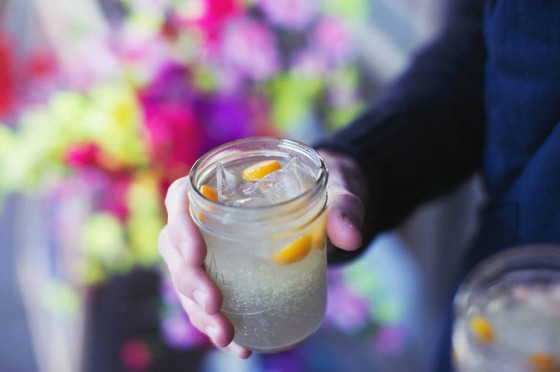 Year of the Horse! How to celebrate? Perhaps brunch tomorrow with Rice Paper Scissors at their new permanent home in the Mission! Just look:
Starters
Fried Daikon Cakes – 6
crispy rice cakes made with daikon, Chinese sausage and dried shrimp
Pho Bao – 6
steamed buns filled with beef pho broth, ground beef, scallions, cilantro, and lime
Banh Chung – Tet Sticky Rice Cake – 7
sticky rice with ground pork and mung beans, steamed in banana leaves
Mains
Chicken Xiu Mai Banh Mi – 9
chicken meatballs in a ginger-tomato sauce pate served with housemade mayo, chicken liver pate, cucumbers and cilantro
Pho Ga – Chicken Pho – 13
fresh rice noodles in ginger chicken broth, served with poached chicken, shaved onions, culantro, scallions and lime leaves.
Pho Ga Dac Biet – Special Chicken Pho – 15
same as above plus confit gizzards, quail eggs and chicken feet
Buddha's Delight – 13
cellophane noodle stir-fry with tofu, shiitake mushrooms, wood ear mushrooms, lily buds and roasted ginko nuts
Thit Heo Kho – Caramelized Pork and Egg Rice Plate – 13
caramel claypot baby backribs braised in star anise, coconut water and fish sauce, served with a soft egg and broken rice and dua gia.
Banh Bia – 5
Vietnamese mooncake with flaky crust filled with mung beans and a salted egg yolk
Drinks
Jasmine Tea – 3
Vietnamese Iced Coffee – 3
slow-dripped Trung Nguyen coffee with condensed milk
Kumquat Ginger Beer – 3
housemade ginger beer with candied kumquats
Kumquat trees are often used to decorate the house for the Lunar New Year.
Daaaang that is a legit menu! RSVP and invite your friends!