The subject of one's Preferred Gender Pronoun is finally getting some mainstream attention right now. Facebook announced today that it will allow many more gender options for self identification in profiles, and late last year A-gender teen Sasha Fleishman bravely spoke out after their attack on a bus by a classmate. The Magic Theatre's new show Hir (pronounced like "here") tackles gender identity, and from the sound of it, a whole lot more. Here's the report from Katie & Brittany: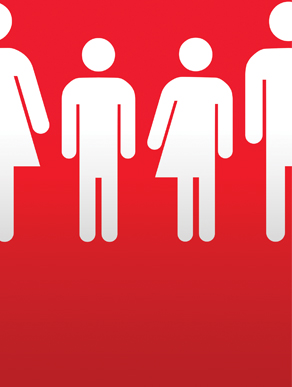 When we saw that the Magic Theatre was putting on a show called Hir we were intrigued. Armed with little more than Magic's description "Newly enlightened Paige is determined to forge a deliriously liberated world for her two wayward children: Isaac, on leave from the Marines under dubious circumstances; and Max, tender, jaded, and sculpting a third-sex gender identity for hirself." We braved the rainiest Sunday in recent memory for some Drama Talk & Drinks.
Brittany: I think Magic Theatre likes to say "fuck you" to its' audiences.
Katie: I agree, I left that show with less hope for life than I did walking into it.
B: Which is not to say it was a bad show. It was a very well done show. But it was SO depressing.
K: It was depressing, but at the same time refreshing. I thought it was fascinating to see how far they could go with a dysfunctional family. The writing was really good, and the show had good pacing.
B: The first act of the play was a little too wordy for me. I felt like I was in a gender studies class, but maybe some audience members need a gender studies class for the play to make sense.
K: Sometimes it did get a little preachy, but overall, good writing, well acted, and an amazing tragic ending. I'm struggling with finding words for it, because it was well executed, I was moved and entertained, but I don't think I would want to go through that again.
B: In the Director's notes they talk a lot about the similarities between Hir, and Sam Shepard's Buried Child (which we reviewed at Magic earlier this season). I feel very similarly now, to the way I felt walking out of that Buried Child. I feel moved, which is to say disturbed, and impressed by what Magic was able to create. At the same time, I don't know if I would tell everyone I know to go and see it because it is such an unsettling piece.
K: I felt like I was in good hands with those actors, and the director and writer. I don't have any negative notes for them, I enjoyed the lighting, staging, pacing . . . everything.
B: The actor who played the father (Mark Anderson Phillips), was remarkable. All the actors were good, but his physicality throughout the show was so spot on. That was such a hard role, and to see him throughout the play so debilitated, and then at curtain call as a totally normal person was impressive.
K: I really liked the mother (Nancy Opel) too. I thought she was really complex. I could imagine her as a submissive Mom, who has now gone a little batty and become empowered. She handled that character really well. If there are people who want to see creative, reimagined theatre, that hits you in the face hard, this is a good play to go to.
B: People should definitely go see it, just be aware you might want to drink heavily afterwards.
The Verdict: Go see this show. Although we both left with a bleaker outlook on the world than when we entered, it's the sort of bleakness that makes you think, which is what good theatre is all about.
The Drama Talk: Magic is correct when it identifies Taylor Mac as "one of this country's most heroic and disarmingly funny playwrights." This play is disarming. From lights up on a man in a woman's night gown in clown make up, to an end that leaves you feeling despondent, this play breaks lots of new ground. Magic and its cast pull off this complex show beautifully.
The Drinks: We went to a 7pm show on a rainy Sunday night, so the first place we tried had actually closed early. We ended up at Bullitt Bar on Polk. Katie got bubbly, since they keep talking about drinking non-alcoholic bubbly during the show, and Brittany got a spicy margarita, so her mouth would hurt as much as her soul after seeing such a depressing play.
Hir runs through February 23, at The Magic Theatre in Fort Mason. Shows are starting to sell out, so if you want to see this show before it closes you should get your tickets soon. Tickets for Hir are available through the Magic Theatre online box office and range from $20-$60 depending on seating.