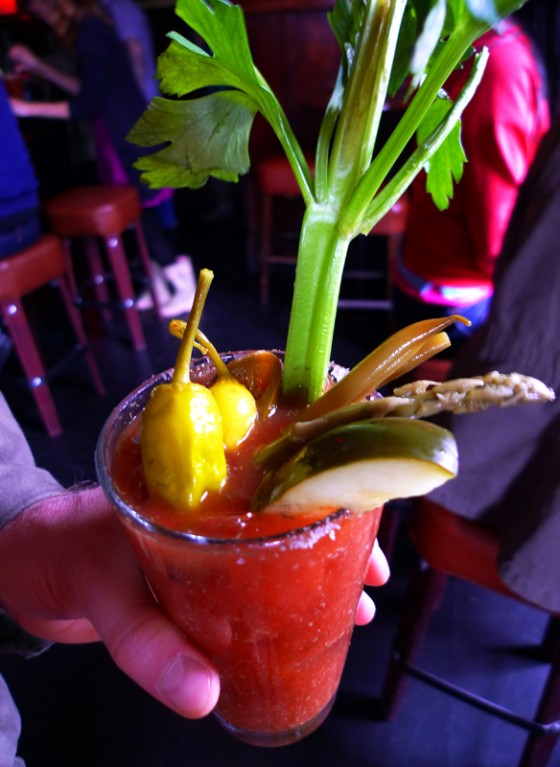 Now that we can finally manage to look a bloody mary in the face again without experiencing severe nausea after all of that ridiculous indulgence during our initial foray, we figured it was time to get moving on round 2 of the Mission Mission Bloody Marython.  Last time we held the tour on a Saturday to provide us with plenty of time to recover the next day, but that unfortunately forced us to miss all of the bartenders who bring their bloody mary best on a Sunday!  Luckily, thanks to the upcoming 3 day weekend afforded by Memorial Day, this is the perfect opportunity to delve into their creations while still enjoying a buffer day of recovery.
So, please join us at 12 noon this Sunday for the next installment of the Mission Mission Bloody Marython.  We haven't exactly solidified the route yet, but at the moment the idea is to hit up (in roughly this order):
Thieves Tavern (14th @ Guerrero) – home of the vegan bloody mary
The Attic (24th @ Mission) – tiny cubes of cheese!
Pop's (24th @ York) – maybe we can get some BBQ too
Phone Booth (26th and S. Van Ness) – a dark horse contender
Argus Lounge (Mission @ Valencia) – everyone keeps saying I need to try these
It will be a merry bloody mary fueled romp through the Mission, with a few nice walks in between for some exercise too!  Look, we even made a Facebook event page.  We'll also probably post an update here when we finalize our route and schedule.  See you on Sunday at noon!
[Photo by Mike Chino]