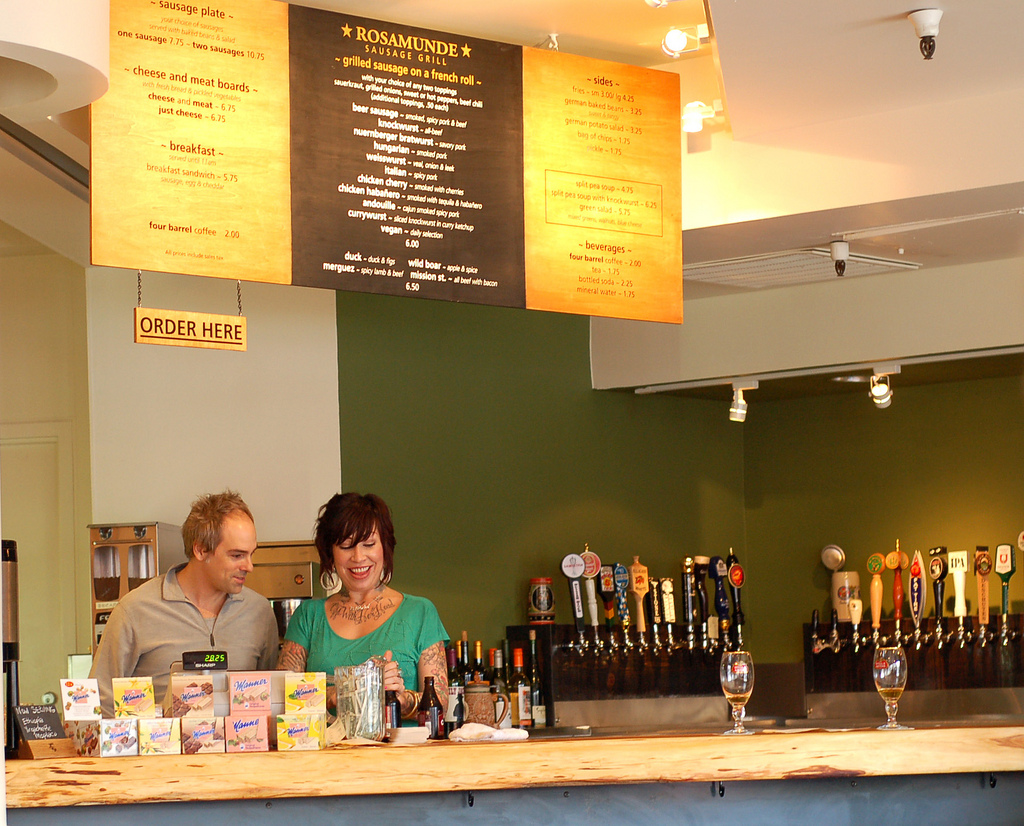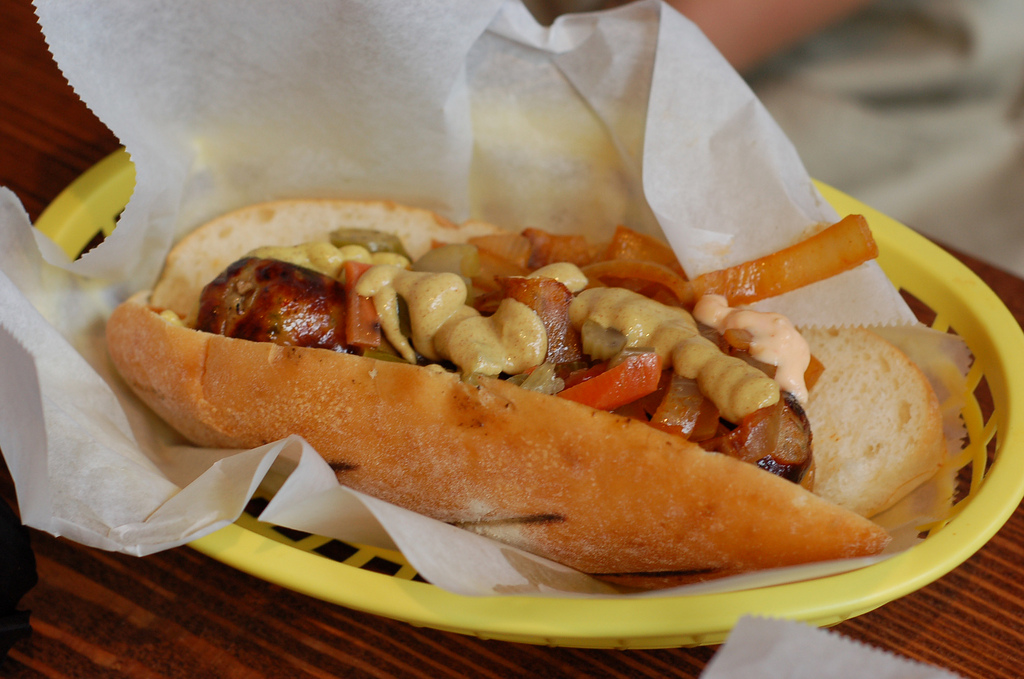 Today, Rosamunde Sausage Grill opened its new location at Mission south o' 24th. Diverse experiences dictate diverse format: three sausages, three opinions.
Jen Gann: I got really anxious while waiting to order at the new Rosamunde location. Maybe it's because the huge space allows for too many competing possibilities to swoop in. Finally, I decided on the Chicken Cherry sausage. I like sweet and savory. Unfortunately, I think I picked the wrong accompaniments. While the hot peppers were good (what hot peppers aren't?), the grilled onions were somehow ill-defined and flat. The sausage itself was much better, with a pleasing texture and tasty bits of cherry. The toasted bun ruled. I regretted not ordering a beer but luckily, someone was nice enough to let me take a few sips (or a lot) of his.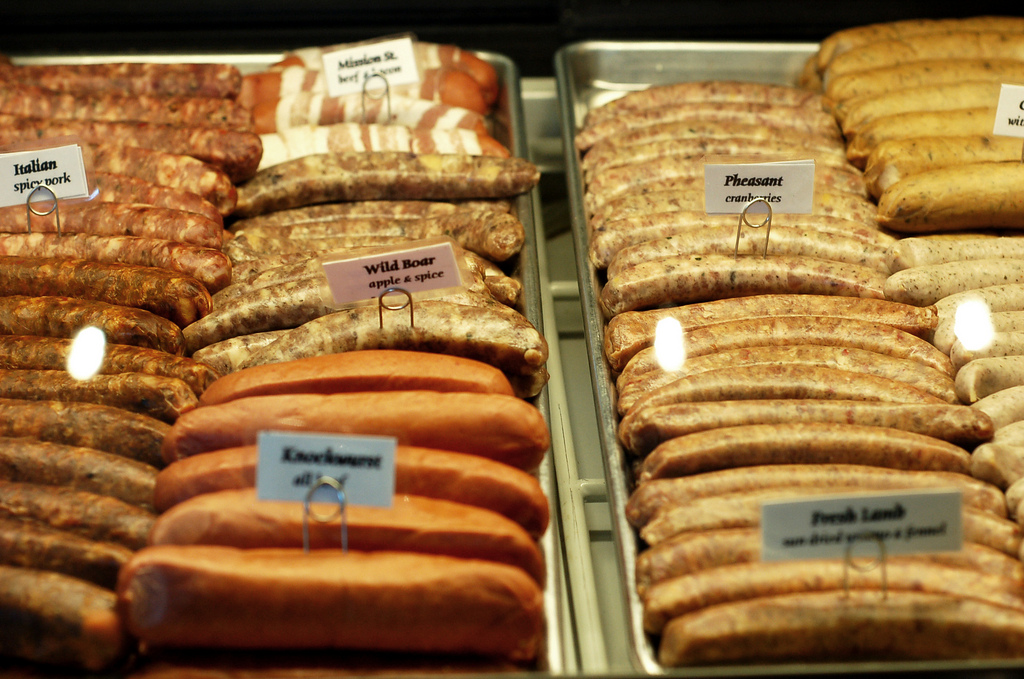 David Cole: Great hopes! Great hopes of mine were dashed on this — this most wet of MLKJDs. The culprit: weisswurst with grilled onions; and an accomplice: potato salad. I ignored their veal's reputation (mainly because I found out about its reputation after I finished eating). I am generally a fan of the stuff but my sausage had little flavor and the grilled onions were (as previously alluded to) unmanageably large and similarly flavorless. Okay, but potato salad is an easy victory for me. What! Filled with rubbery bacon and eerily slimy, Rosamunde's potato salad was similarly disappointing. I'm convinced I would enjoy a different order and I plan to find out in the near future. Plusses: lots of seating, beers, beers, beers.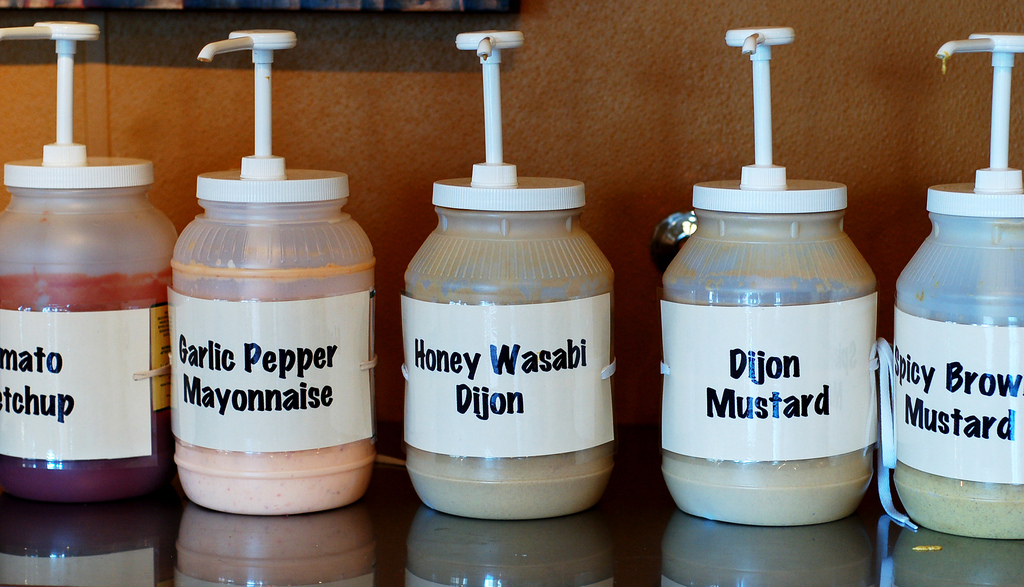 Tag Savage: Pork is a pretty reliable meat. It's sweet and vaguely tropical and stands up to rough treatment. Unadventurous, then, I got the Hungarian sausage. It is smoked. It was snappy and butch. The buns at Rosamunde have a nice open crumb to them, and they are rigid enough to handle the heft of your meat but spongy enough to allow gobbling. Perhaps you can tell: I am a violent eater. I know well enough to skip the grilled onions at Rosamunde—they are slippery and bland—but the sauerkraut, which is oddly dry but still vivid and tangy, was as good as I remember. And yeah, the hot pepper mix is surprising in a sort of old-world way. Chunks of carrot and celery in it. It's almost a brothless soup.
The new location feels like Cancun turned 90 degrees, a bunch of picnic tables crammed too close, forcing you to drop scarves and things into your neighbors' food, forcing you to bang your butt into your neighbors' heads every time you stand. Under certain circumstances this will feel convivial. There is also a table made from very large tree stump. It is very low to the ground, which means a long treacherous journey for your sausage as it travels from the tray to your mouth. Certainly pants are going to get ruined.
There is also a bar. The bar has bunches of beer and bunches of wine. The introduction of wine means that your can bring you mom. As of today, it was a more tolerable, if less novel, experience than the Toronado-annex situation in the Lower Haight. There are big windows and the light that comes through them is cottony and appetite-making. Toronado, by contrast, has a putrid bluish light that I wish they would do something about. I had a Damnation ale from Russian River Brewing. It was hella ripe, tasted like licking pear pulp from between someone's very clean fingers. Not bad. Didn't really go with my sausage, by that's no one's fault but my own.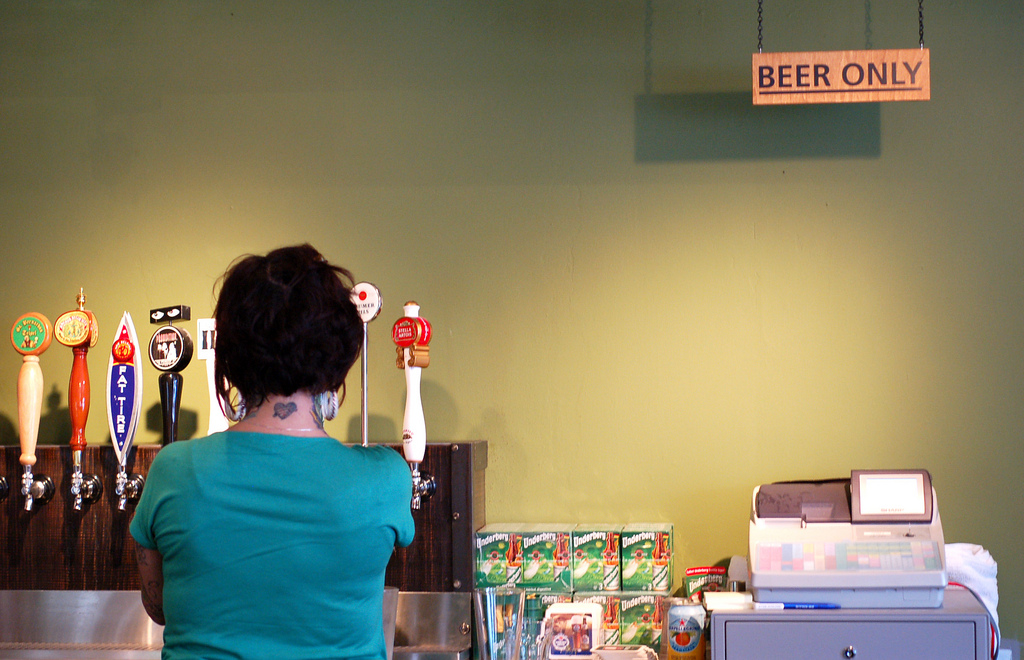 Photography courtesy of Amandine Circumflex.