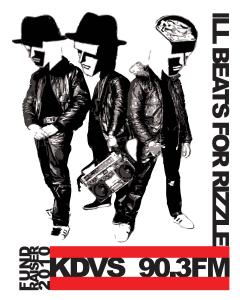 Without KDVS there would probably be no Mission Mission. KDVS taught me about punk and community and ska and reggae and doing it yourself. Their quarterly program guide KDViationS taught me publications don't have to be glossy or even all that readable to be good. And the t-shirts they produce for their annual fundraiser have definitely informed my fashion sense.
Today is the final day of the station's 2010 fundraiser week. This year's shirts are ill as ever. And they aren't even the most killer premium. For a mere $100 pledge, you can rent the KDVS Mobile DJ Unit. It is a professional-quality setup, accompanied by the KDVS DJ of your choice. They will come play your party, whenever you want. They'll drive to SF, they'll go all night. For $100. Got a wedding or house party coming up? Bargain!
Also for $100, bands can book four hours of recording time in the station's RAD recording studio. All analog all the time. Vintage equipment in pristine condition, maintained by a loving staff. Hellooo!? $100. Unique bargain!
Listen live here. Visit the fundraiser page here.
Mobile DJ Unit and recording studio details here.
Previously: