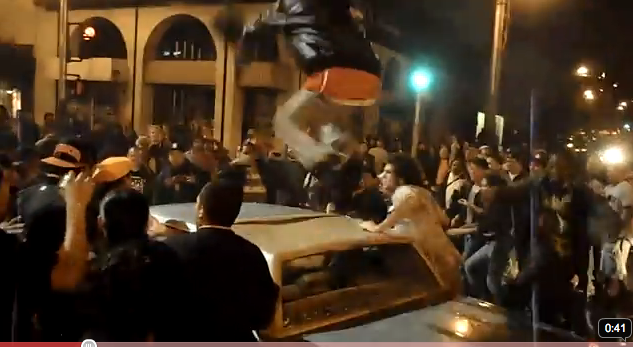 From reader Skyler S.:
I'm sick of watching these 21st Street Giants mob violence videos, but I was nearly mowed down by the driver and my friend got some gruesomely graphic footage. It's terrible to watch. Even though the driver brought this upon himself, I don't wish a beating like this on anybody.
UPDATE: Skyler explains what became of the driver:
A group of us started yelling stop and rushed in, a super citizen in front of us grabbed the driver and shoved him through the crowd to safety. The driver owes a lot (maybe his life) to whoever that fellow is that risked his shit to pull him out of the mob. His savior had a white and orange hat on, and an orange jersey (real distinguishable in a mob of orange right). You can see him pull the driver out of the mob in the other videos.
Previously: