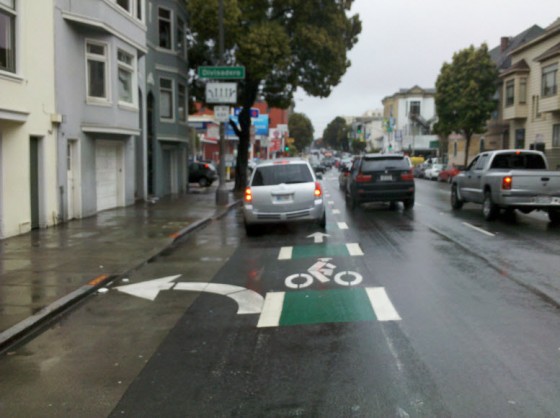 And I am confounded by why this continues to be so difficult for some drivers to figure out.  Correct procedure seems fairly obvious to discern from the street striping, so is this a question of manual dexterity then?  The above situation is definitely unsafe to transverse for a cyclist, with constant 40 mph traffic in the passing lane and an unpredictable line of cheap-fuel seeking cars walling off the other side.
I'd just as soon pass this off as typical oblivious automotive behavior were it not for the fact that it's been happening for 6 months!
Will a solid green stripe along Fell solve this?  More than likely.  That one on Market Street, while imperfect, seems to take care care of most of the vehicular riff-raff.
And for any dufus who snickers that this isn't in the Mission, please keep in mind this intersection's vital importance for anyone who might want to take a delightful bike ride to the beach or for spicy Asian soup in the Sunset.