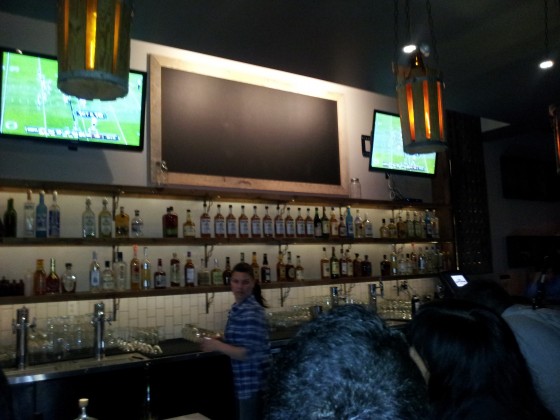 Southpaw BBQ, finally set to open tomorrow, had an "Industry Night" soft opening on Monday. I was able to try their pulled pork shoulder that you could throw on a slider and mix with a bunch of sauces, as well as some of their house-made blue cheese chips.
Drink-wise, I snagged a modded whiskey sour with a ginger infusion — really smokey and good — and the Sazerac, which had some sort of toasted lemon twist. The bartenders know what's up with whiskey, which is always a bonus.
The spot has a long table in front, about 5-6 small tables plus bar seating. You can see right into the kitchen and watch the cooks prep the food, and the exposed brick makes it cozy, plus they have two flat screen TVs to enjoy. If I wasn't having my birthday at Jack's tomorrow, I'd be back in there first thing, but I'll definitely roll back next week and try more barbecue.