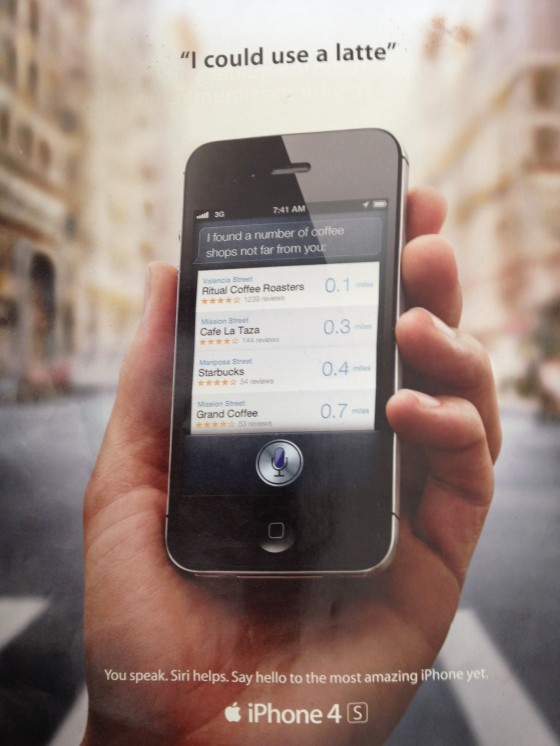 Our pal Eli Horowitz, co-author of the renowned ping pong tome Everything You Know Is Pong, spotted something curious on the back cover of his New Yorker the other day:
Hello Allan.  I have a (non-pong-related) tip for you — almost entirely irrelevant, but it's Mission-centric and has been on my mind. Have you seen this new iPhone ad set in the Mission?  It's on the back cover of the New Yorker and Rolling Stone and probably elsewhere.  It says "I could use a latte" and then has a photo of the phone, which shows four listings: Ritual, .1 miles; La Taza, .3 miles, Starbucks (at Mariposa), .4 miles, Grand Coffee, .7 miles."  So first of all, ha ha, that's mildly interesting.  But then I was wondering where this phone-holder was standing, and I guessed 21st and Valencia — which might work for Ritual and La Taza, but .7 miles to Grand?  And then I realized there's NO spot that fits all the data, and so Apple must have messed with the distances — maybe in order to include Starbucks on the list?!  Isn't that interesting?!?!  No, not really, but still.  Citizen journalism!
It's interesting! Maybe it's like how I take every opportunity to mention ping pong, Apple takes every opportunity to mention Starbucks?
(Disclosure: I was not paid to plug Eli's book, but seriously, Eli, if you have any more of those kickass Everything You Know Is Pong-branded paddles left, the one I won is getting pretty worn and having a backup would really set my mind at ease. Also, April is Starbucks' Global Month of Service! Join them in making a difference in your community this month!)