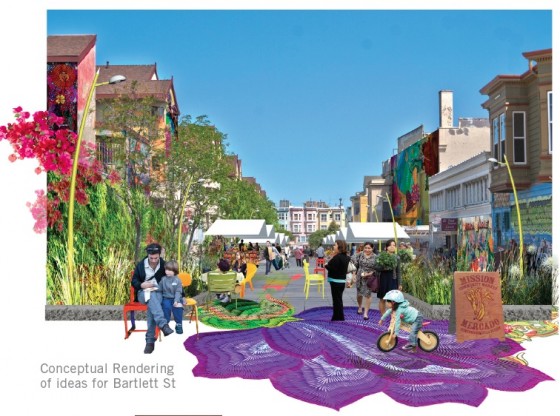 There's an effort underway to turn the section of Bartlett between 21st and 22nd — the stretch that's home to the Mission Community Market on Thursdays — into a more inviting public space. This effort kicked off officially with a community meeting last night, and Mission Local was there:
"We can have fun for a moment with these ideas," said Jeremy Shaw, Mission Community Market's executive director.
They can have fun because revitalizing the dejected block on Bartlett from 21st to 22nd Street has potential funding now. Shaw, design group Rebar and CARECEN are working with the developer of the Giant Value site and New Mission Theater on an "in-kind agreement." Project developers can satisfy their public impact fees by making agreements with community groups that provide public improvements. Shaw and Rebar designer John Bela think they can get $500,000 to revitalize the backside of the new development, Bartlett Street.
[via Dolores Park Works]