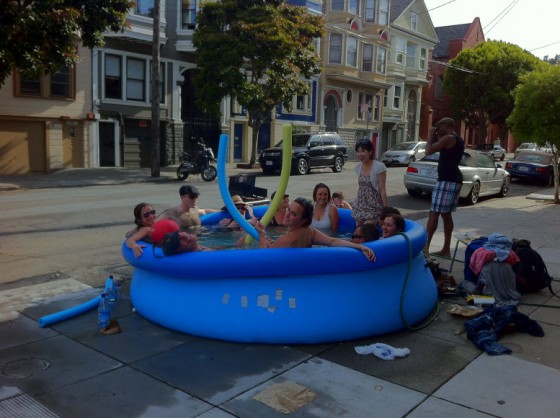 While great strides have been made on the new soccer field and children's water park, the long-awaited re-opening of the public Mission Pool (and Playground) is still a ways away, but that didn't stop this merry band of revelers from having their own pool party at that very same intersection. According to MM reader Shawn who happened upon this scene on his way to the park,
These guys were just about to dine on carefully prepared pool-steaks. Their invitation was appealing: "I want you in here right now!"
Indeed, this weekend witnessed one of those magical 80+ degree days that also happened to occur on a Saturday, which only happens about 3 times a year, so you've gotta take advantage of each one to the fullest, otherwise you're totally blowing it. I hope for your sake that each and every one of you was able to get into some kind of mischief or amazing adventure that reminded you that we live in the best place ever.
[Photo by Mike Forbus]