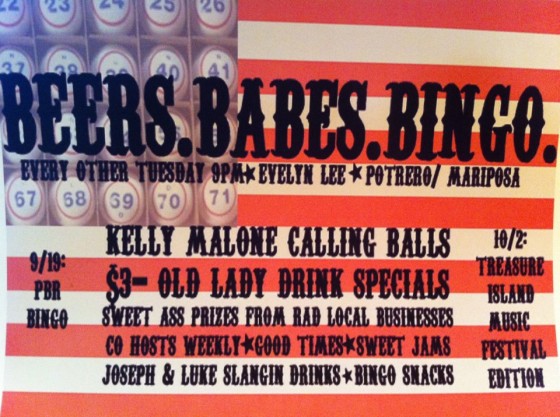 Free Treasure Island tickets are always a fun thing to win, but this whole event sounds pretty dope:
Every other tuesday, we all drink some beer, babes of both persuasions come out and we play with balls, bingo balls. I'm calling balls with some friends, put out some bingo snacks and yall win free drinks and rad prizes while we get a lil rowdy.
[Today] Tuesday October 2nd, we're hosting a Treasure Island Music Festival Edition Bingo. I set up a sweet ass DIY Summer Camp at the festival, this is our 4th year and we are mega stoked. So we're giving a
way some fun shit:
-camp prizes (slingshots, tube socks & more)
-Flava Flav clock and other prizes inspired by the bands
-as well as some tickets to Treasure Island
And yeah, our boy Luke (who some of you apparently want to finger) will be behind the bar. RSVP and invite your friends!
P.S. Check out the Treasure Island lineup here. And note that a series of related night shows at venues around town were recently announced, so even if you can't make the festival, maybe you can still catch a band or two you like.