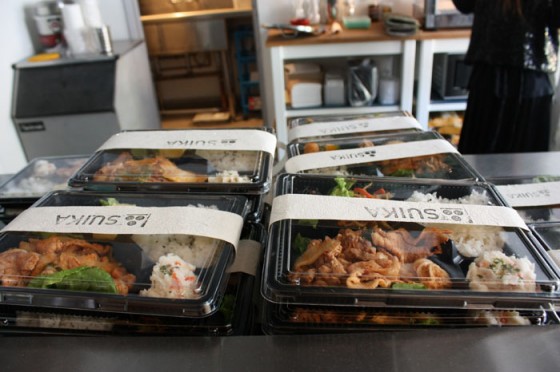 The Bold Italic takes a look at Suika, the Ken Ken offshoot just opened on 18th near Mission:
What's special about Suika is that it has no set menu. "Everyday is different," said chef Taka. "We decide on the menu the night before." He likes to get experimental, so customers can experience all the endless bento combinations. The only thing you can count on is that there will always be a meat, fish, and veggie option available. Some past creations include saba (mackerel), pumpkin croquette, kimchi pork, minced beef katsu, and even hamburger bento. Each lunchbox also comes with assorted sides such as rice, tamago (egg), burdock potato salad, hijiki seaweed, nasu eggplant, or kabocha squash.
They've also got desserts and Boba Guys boba drinks. Read on for lots more info and pics.