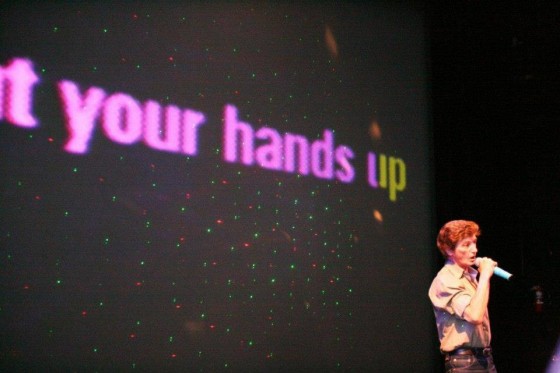 There's never a dull moment at DJ Purple's Dance Karaoke parties, but some scenes really get imprinted on your brain. Like when Rapper John takes the stage and totally nails fast-paced club hits like "Party Rock Anthem" and "Gangnam Style." He's a somewhat older gentleman, so there's always a sea of Mission youngsters double-taking in unison as he launches into one of his signature jams.
I asked DJ Purple to tell me what he knows about the guy:
I saw Rapper John singing Rapper's Delight at Roger Niner's show a few years ago, and realized what a perfect match he would be for my show. I was really happy when he finally showed up a few weeks later to check out my show. It was fabulous, and he's been a regular ever since.
I only know a little of Rapper John's history, mostly stories from other KJ's. They say he's been a legend in the Bay Area and Las Vegas karaoke scenes for years, always picking the perfect crowd-pleasing songs and wowing everyone with his lyrical prowess.
Last year, I laid down a special challenge for him to learn a new song. When Gangnam Style came out, I knew immediately that he was the perfect man for that song, but was afraid rapping in Korean might be too much for even Rapper John. He took it on, and that song was indeed almost too much for him, but Rapper John triumphed in the end – he found a hilarious English phonetic translation parody of Gangnam Style by Chad Wild Clay and used that to conquer the Korean pronunciation. Since then, "Condom Style" with Rapper John has been a regular feature at my shows, to the delight of the dancing audiences…
Delight is right. People go NUTS. Lucky for us, DJ Purple put us in touch with the man himself. After the jump, the official Mission Mission Rapper John interview, followed by a video of Rapper John doing "Party Rock" at Singin' & Pingin' 2 last December.
And do try to catch Rapper John and DJ Purple in action this Friday night at Singin' & Pingin' 3 at the Verdi Club!
[Photo by Jess Kelso / American Tripps]
When did you get into rapping?
I got into rapping years ago when I decided to memorize the words to Rapper's Delight. A local band that I was friends with used to call me up to do a couple of minutes of Rapper's Delight with them. Eventually I found it on a karaoke cdg, and started doing it on karaoke. Then I learned Baby Got Back and Bust A Move. I finally decided to try singing in addition to rapping around 2003. I started singing country songs, because my wife and I used to go country western dancing. Then I switched to pop songs, because it gets more people up to dance, which is how I connected with DJ Purple.
When did you start hanging with DJ Purple?
I met DJ Purple about a year ago at The Swingin' Door in San Mateo. I like his KJ style of dance karaoke, no slow songs, his musical talents, and he keeps the singers coming up, one right after another, without any breaks inbetween.
Where are you from?
I was born and raised in San Francisco, but moved across the bay years ago to be near my job.
What do you do for fun when you're not at karaoke?
When not at karaoke I occasionly like to bowl. (I bowled a perfect 300 game in a league years ago!) I also like to take cross-country, Amtrak train trips, and like going to Las Vegas for karaoke.
Where else do you go for karaoke?
I go all around the Bay Area for karaoke: the Sunshine Saloon in Pleasanton, Gallagher's in Dublin, Mojo's In Fremont, Ryan's in San Leandro, Fresh Pizza in San Lorenzo, The Swingin' Door & O'Neils in San Mateo, Rudy's in Palo Alto, and El Torito's & Behan's in Burlingame, and the Makeout Room & Slate's in San Francisco.