You might remember her from when she had lots to say about the temporary Levi's popup on Valencia about three years back. Later, we suspected that she might have been part of a very elaborate and insidious Levi's marketing ploy. (So maybe Betabrand hired the same marketing team? jk)
This morning she made an announcement on Twitter (and her Twitter remains tremendously engaging):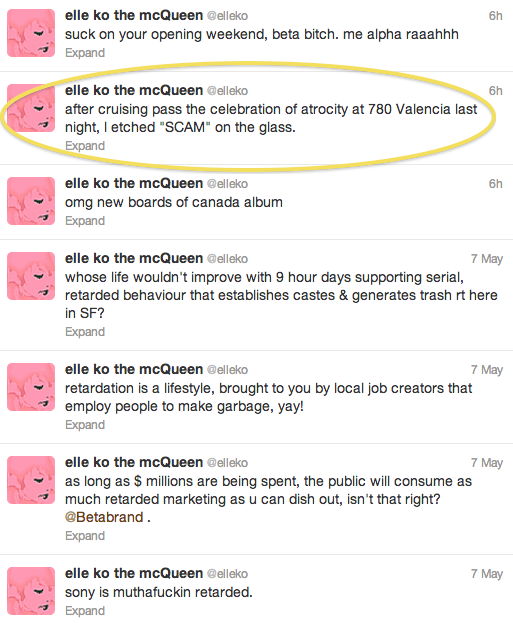 She's right about the new Boards of Canada though, am I right?
Anyway, the thing is, she used some kind of gnarly etching cream that's so dangerous she elected to also put up a homemade — and bilingual — warning sign:
How thoughtful!
This afternoon, Jefferson from Mission Bicycles, Betabrand's neighbor, sent in all of these pics and filled us in on what Betabrand is exactly:
Who is Betabrand? (Hint: they are not owned by Liz Claiborne). The owner, Chris Lindland has lived here in San Francisco for 17 years. He started his company in the basement. In my opinion, here's that makes them remarkable: They have not outsourced production to China, Bangladesh, or Potugal. They are not made in the USA. It's made in San Francisco. They are local makers. The money stays here. They employe about 100 blue and white collar San Franciscans.
They are relocating their operation from Cesar Chaves to Valencia. Adding a retail space so their customers can come in and try stuff on and have a human interaction.
Sounds fine to me.
Here's the finished piece:
Messed up: Betabrand, a SF clothing company, is supposed to open a store on Valencia St. tomorrow. Then, this: twitter.com/mgrooves/statu…

— Matt Graves (@mgrooves) May 10, 2013
And here's a crew cleaning up the mess today: