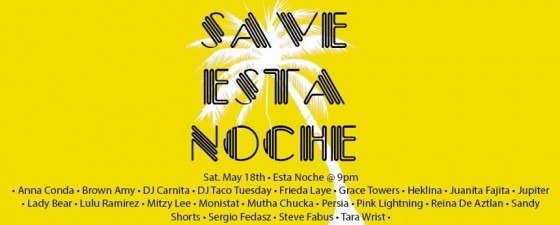 Esta Noche is in trouble!
Last year the Board of Supervisors passed laws that can make it harder for some small businesses to afford their permitting and license fees. Unfortunately, Esta Noche will have to pay for all their licenses in one bulk payment which is already one month late.
We need to raise $9,000 in the next two weeks in order to keep San Francisco's only Latino queer bar open. We need your help!
Here's what you can do:
Donate: Every dollar up to $9,000 will go to Esta Noche to help them keep their doors open. Any additional monies raised will be given to El/La (a Trans-Latina nonprofit in The Mission)
Come to our party: Join us May 18th as local queer DJs, drag performers, and politicians come together to save Esta Noche!
Tell your friends: Spread the love. Share this on Facebook and via word of mouth!
Save Esta Noche Party
Esta Noche: 3079 16th St
9pm-Close • $10-20 Sliding Scale • 21+
RSVP and invite your friends via Facebook! Also, contribute via the Indiegogo campaign!