With Katie out of town, Brittany took a date and followed up with a commenter to see a new play last week. Here's her dispatch from the press seats: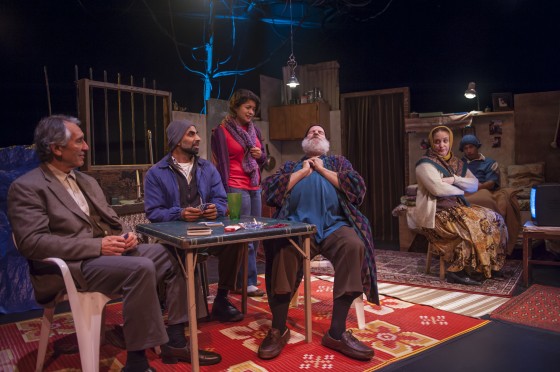 [© David Allen]
A Drama Talk & Drinks reader, connected to Golden Thread Productions, invited us via our comments section to their newest play, the west-coast premiere of Urge for Going, at Z Below in the Mission. Katie was out of town this weekend, but we didn't want to let a show go unreviewed, or a comment go unanswered. So Brittany decided to enlist the help of a guest reviewer for this installment of Drama Talk & Drinks. Sam Clay, her boyfriend, grew up in a Ukrainian-Jewish household. He also has a theater minor. So who better to take to a show about a young Palestinian girl growing up in a Lebanese refugee camp?
Sam: I thought it was a good show. I thought the text was an excellent place to start, and I enjoyed the world the playwright created.
Brittany: There were definitely parts of the script I liked, but one of the problems with this play, is it was based around a teenager's conflict with her parents. Part of that was good, because that  made it a more relatable story. What teenager doesn't fight with their parents? This script placed that everyday conflict in a heightened environment which was interesting. At the same time it was a teenager arguing with her parents. Which is just annoying to watch.
S: It was a universal conflict, and I related to it. Also, on the Jewish side, they talk about all these same struggles, just from a different perspective, and hearing this perspective was interesting for me.
B: I thought the set was very well done. The sense of claustrophobia they were able create, because Z Below is such a small space, worked really well for this play. Definitely one the things driving the conflict between the characters is this sense of claustrophobia. Six people stuck living together in one small room, and they can't get away from each other. It felt like there wasn't enough room to breath. They created that atmosphere very well.
S: There was something I really liked about the interplay between the characters, particularly the father, Adham, and his brother Hamzi. It reminded me of my family. Getting a little personal, my family is a family of Jewish immigrants. I was the first to not have to live with three generations in the same apartment. So I saw a lot of parallels in the way the play's family treats each other, which I enjoyed.
B: Yeah, when they were interacting as a family, despite a few line-hiccups, they seemed really believable. The relationships between the characters felt genuine, and you could tell they took time developing the back-stories between the characters, so it had a sense of history. When they broke the 4th wall and went into the chorus sections, I don't think it worked.
S: I agree with you, I want to stay positive though, because overall I think it was good. I think it's well done and an important story to hear. I would recommend it to anyone who asks.
The Verdict: Overall an interesting show. Strong believable relationships between the characters, combined with a well done set design, make the show engaging. Although some of the more theatrical elements, such as the chorus, don't quite work. If you're interested in seeing a play about a story rarely told, go check this out.
The Drama Talk: Although there are moments that the actors get indulgent, this play paints a vibrant picture of a family struggling to live together as they long for more. Although the conflict between the teenage girl Jamila (played by Camila Betancourt Ascencio) and her parents feels universal, placing this conflict in a Palestinian refugee camp makes it interesting. Golden Thread Productions "is dedicated to exploring Middle Eastern cultures and identities as expressed around the globe . . . [their] mission is to make the Middle East a potent presence on the American stage and a treasured cultural experience." This play does a good job opening an audience's eyes to the everyday struggles of a Palestinian family stuck in a country that doesn't want them, with nowhere else to call home.
The Drinks: We tried to go to Trick Dog for drinks, which is a silly thing to try to do on a Friday night. So we ended up at Southern Pacific Brewing Company. Brittany got the California Blonde, and Sam got the Pale Ale, and cheered to a enjoyable night at the theater.
Urge for Going runs until December 8th, in repertory with 444 Days, a play written by Golden Thread Productions' Artistic Director, at Z Below. Tickets range from Pay-What-You-Can on Thursdays to $35, with discounts available for students and seniors. You can also get a two play pass for $45. All available through the Golden Thread Productions website.