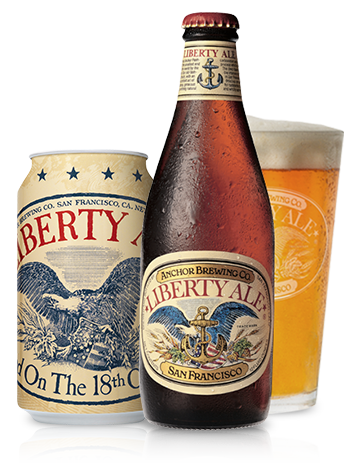 Yesterday I drank the second half of a bottle of Liberty that had been sitting open on my kitchen table since Tuesday afternoon — and it was absolutely delicious. How many beers could you say that about? I reckon not many.
Everybody's so gaga over Anchor California Lager these days, but hopefully not at the expense of good 'ol Liberty, a true San Francisco original:
The champagne-like bubbles, distinctive hop bouquet, and balanced character of Liberty Ale® revives centuries-old ale brewing traditions that are now more relevant than ever. First introduced in 1975, Liberty Ale® is brewed strictly according to traditional craft brewing methods, and uses only natural ingredients — pale malted barley, fresh whole-cone Cascade hops and a special top-fermenting yeast, and water.
The yeast used during fermentation produces many of Liberty Ale's subtle flavors and characteristics. A natural process called "bunging" creates gentle carbonation, and the practice of dry hopping (adding fresh hops to the brew during aging), revived by Anchor, creates its unique aroma.
Liberty Ale® was first brewed to celebrate the bicentennial of Paul Revere's historic ride. As the first modern American IPA brewed after prohibition and the first modern American single-hop ale and dry-hopped ale, Anchor's Liberty Ale® is the original craft brewed ale and the historic beer that started a revolution. [link]