One weekend only! To celebrate the release of the lovely new Mission Chinese Food Cookbook: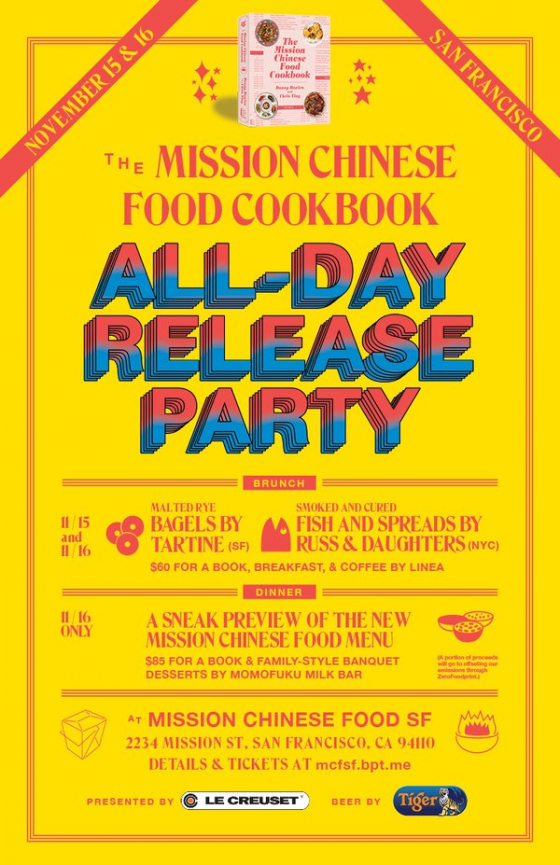 Here go a few more details:
LE CREUSET PRESENTS:
Three opportunities to celebrate the release of the new Mission Chinese Food Cookbook.
Join us on the morning of 11/15 or 11/16 to get your copy of the new book, meet the authors, and find out what a Tartine bagel with Russ & Daughters toppings tastes like.
Or come on the evening of 11/16 for an outrageous banquet of brand new Mission Chinese dishes, prepared by Danny Bowien and the MCF crew.
Or, hell, why not spend the whole day with us and do both?
~ ~ ~
$60
SUNDAY and MONDAY BRUNCH (11/15 and 11/16)
Holy cow. Come by any time between 10am and 3pm for this very special, never-before-seen collaboration.
Malted Rye Bagels by Tartine
with Smoked and Cured Fish and Spreads by Russ & Daughters
and Coffee by Linea Caffe
Sandwiches:
THE SUPER HEEBSTER
Whitefish & Baked Salmon Salad with Horseradish Dill Cream Cheese and Wasabi Flying Fish Roe on a Bagel
THE CLASSIC
Bagel and Cream Cheese topped with succulent slices of Smoked Salmon
***Each ticket includes BOTH sandwiches, a signed cookbook (retail $35), and coffee!***
~ ~ ~
$85
MONDAY DINNER (11/16)
A sneak preview of the new MCF menu, cookies by Momofuku Milk Bar, and beer from Tiger Beer.
Danny Bowien and co. will be serving a special banquet of new dishes for a very limited number of guests. Try everything before everybody else gets the chance, for the very reasonable price of $85. Ticket is for a reservation to be seated at the specified time. Please specify party size and note the names of your dining companions if purchasing tickets separately.
Menu subject to change, but here are some sample dishes:
BEEF TARTARE, "LETTUCE CUPS"
CHINESE RED CABBAGE SALAD
JAPANESE SCALLOP SASHIMI
SWEET & SOUR PORK JOWL
CHEF LIANG'S BEEF CHOW FUN
BEEF JERKY FRIED RICE
MAPO TOFU
GINGER SCALLION & MATCHA NOODLES
SMOKED TEA RICE, ONION
VINAIGRETTE
STIR FRIED CELERY & HAZELNUTS
CHINESE BROCCOLI & OYSTER SAUCE
Dinner is served family style, so there is a minimum of 2 tickets per purchase. Note that parties of 2 may be asked to merge with another group of 2. Be ready to make friends!
***Each ticket includes a full-on FEAST, a signed cookbook (retail $35), and beer***
UPDATE: Just be sure to be on the lookout for phone thieves and tennis superstars.