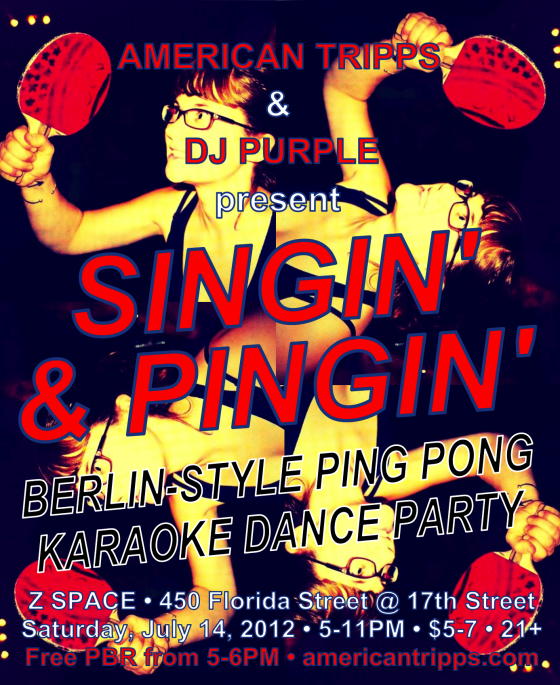 Well, this is a dream come true. My two favorite parties in the world, coming together for what will likely be the best superparty the world has ever known. It's Berlin-style ping pong, in the factory-turned-performing-arts-theater known as Z Space, with DJ Purple's newly reborn DANCE KARAOKE party providing the soundtrack.
DJ Purple has been a fixture here in the neighborhood for years and years now (read all about him in our in-depth interview), so it's fitting that he's debuting his newly revamped (and renamed) repertoire here on Saturday night. We asked him to explain exactly what's new:
OK, so the PINK BOOKS are basically taking the DJ Purple DANCE KARAOKE concept and giving it a thorough overhaul and update.
The basic idea of "no slow songs" has been taken into every nook and cranny of the song book, searching out those few remaining "clunkers" as I like to call them – songs that kill the momentum of the dance floor.
I've also changed the name from "The Ultimate Karaoke Dance Party" to "DANCE KARAOKE" for a few reasons. Most important is that it puts the emphasis on dancing as the FIRST priority, not just an afterthought.
In the past, I would use the "Party" part of the name as an excuse to include songs that were fun, but didn't really keep people on the dance floor.
In the new books, every single song (2,436) has been carefully evaluated for dance potential – WAY more carefully than in the old book. For the last nine months, I've devoted pretty much every free moment to this.
Of course, it's still a karaoke show, so it's not all EDM – it still requires people to be open-minded enough to dance to rock, swing, country, etc.
We tried something similar several years ago at Zen Lounge in Mountain View – I created a special "Super-Dance Karaoke" book – and the result was incredible – we had a packed dance floor all night for karaoke.
Sold! So there's that, plus the ping pong, plus free PBR, plus an afterparty at Coffee Bar across the street, plus skeeball, and it all takes place in this glorious room: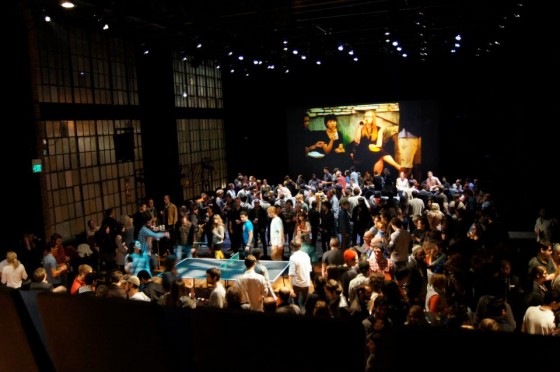 Imagine the karaoke lyrics up on that giant movie screen, and four ping pong tables worth of ping pong action! This is going to be epic. RSVP and invite your friends!
Oh, and be sure to check out DJ Purple's songbook in advance.