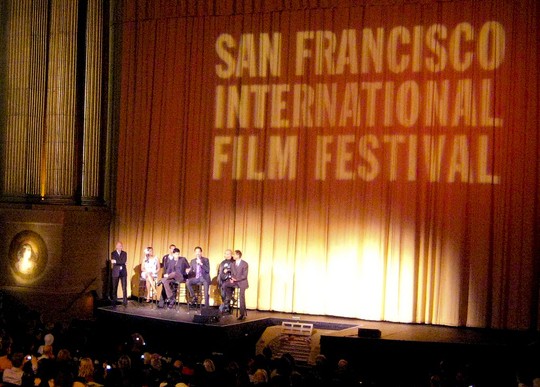 Thursday night I got to go to the SFIFF premiere of La Mission at the Castro. First I'll say it was the best opening three seconds of a movie in recent memory, possibly ever. And the rest was great too.
Before it started, when the lights first went down, somebody ran down an aisle and shouted an exuberant, "VIVA LA RAZA!" To which the dorky society folk sitting all around me clutching their gift bags responded, "What?" "Huh?" "Oh, my."  "What does that mean?" "What did he say?"
This exchange presaged what would be the theme of the evening. The film itself is pretty well wholly devoted to the divides between San Francisco's neighborhoods (and the divides within them), and in the Q&A after, Bratt Brother Benjamin made a point of expressing his hope that La Mission inspires viewers to start building bridges.
Also during the Q&A, we heard from H.O.M.E.Y. Executive Director (and freshly minted movie star) Rene Quiñonez (who you might remember from that community meeting in the wake of last fall's spate of shootings). He thanked the Brothers Bratt for providing him and his organization with a new tool, saying he'd use screenings of La Mission as a way to kickstart discussion with neighborhood youths about hot topics like homophobia and gentrification.
Then we all went over to the after party behind Bruno's, where everyone was showered with complimentary Stella and tartlets, and interviewed by Beth Spotswood and her camera crew.